By John Follain and Rita Cristofari
"A tale of struggle and suffering…from a courageous freedom fighter…Timely and sobering." – Kirkus Reviews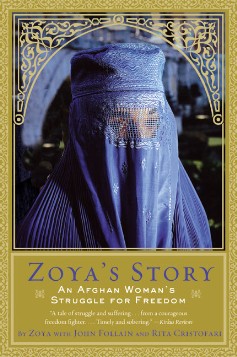 Though she is only twenty-three, Zoya has witnessed and endured more tragedy and terror than most people experience in a lifetime. Born in a land ravaged by war, she was robbed of her parents when they were murdered by Muslim fundamentalists. Devastated, she fled Kabul with her grandmother and started a new life in exile in Pakistan. She joined the Revolutionary Association of the Women of Afghanistan (RAWA), an organization that challenged the crushing edicts of the Taliban government, and she took destiny into her own hands, joining a dangerous, clandestine war to save her nation.
Direct and unsentimental, Zoya vividly brings to life the realities of growing up in a Muslim culture, the terror of living in a perpetual war zone, the pain of losing those she has loved, the horrors of a woman's life under the Taliban, and the discovered healing and transformation that lead her on a path of resistance.
From Publishers Weekly:
Now 23, Zoya was a child during the Russian invasion and a teen when the Taliban took power. The daughter of activists in Kabul, Zoya was raised by her grandmother after her parents disappeared. She now belongs to RAWA (see the review of Veiled Courage, above), a group her mother belonged to. Her reflections show the complex scars made by the tug of war between factional governments and tribal warlords, especially the effects of the Taliban. Many of Zoya's stories (e.g., women only permitted to leave their homes wearing a burqa and accompanied by a male; women often suffering and dying for want of a female physician) are covered in Latifa's My Forbidden Face. Zoya tells of a society where kite flying, bright colors and even women's laughter is forbidden, and enforcers are often armed with Russian military leftovers or crude stones. Yet the Afghans Zoya speaks of remain rebellious and hopeful. She writes, "When I… saw Kabul in the daylight, even the mountains beyond the city which had seemed so peaceful to me when I was a child looked sad. But… that I had seen them again… made me feel stronger." Assigned by RAWA to live and work in a refugee camp near the Afghan-Pakistani border, Zoya now also travels abroad to raise funds for her organization. Her narrative voice is quiet and clear, making her recollections of the breathtaking violence she has witnessed nail-bitingly vivid and her descriptions of her struggle candid and poignant.
Click here to buy a copy of "Zoya's Story". A portion of the proceeds benefit RAWA.
From Booklist:
After both her parents were killed by the predecessors of the Taliban, the Mujahideen, Zoya took up her mother's work in RAWA, the Revolutionary Association of the Women of Afghanistan and, with her grandmother, journeyed to Pakistan, where she could receive an education at a school run by RAWA. A few years later, Zoya returned to Afghanistan to help her people and get firsthand accounts of the horrors of the Taliban reign. Zoya herself witnessed public executions and amputations, but she also witnessed heartening displays of courage–women defying the Taliban by holding secret classes and shopping in the marketplace. Zoya remains skeptical about the future of Afghanistan after the Taliban, afraid that after the U.S. involvement ends, the Mujahideen will return to their old ways. A stirring memoir by an uncompromisingly brave woman.
USA Today says:
No memoirs of world tragedy are more wrenching than those based on the recollections of a nation's young people. Just as the Holocaust and Cambodia's Killing Fields gave birth to memoirs of unrelentingly terrible childhoods, Afghanistan's decades of brutality are adding new voices to the genre.
But because the emotional damage is so fresh and Afghan politics so tenuous, two young women who are now sharing their stories with the world are publishing their memoirs under pseudonyms. It's not so much to protect themselves as it is to protect their families and members of such organizations as the Revolutionary Association of the Women of Afghanistan (RAWA).
Zoya's Story is another simply told yet achingly realistic tale of a girl whose parents are killed by Muslim fundamentalists when she is 14. Zoya reveals no details of how her parents were killed out of fear her identity will be discovered. But her parents' disappearance spurs her to continue their work, particularly her mother's commitment to rescue the victims of sexual, physical and emotional abuse in Afghanistan.
In 1992, at age 14, Zoya moved to Pakistan with her grandmother. She attended a school funded by RAWA donations. As Zoya's Story begins, she is crossing over the Pakistan border into Afghanistan on a mission for RAWA, her first trip to her homeland in five years. As she looks through the mesh opening of the burqa, which chafes her eyelids, she worries that the Taliban will search her bags and find the photographs that document murders the Taliban committed by stoning, burning or hanging their victims. The men whose arms have been amputated for thievery, the women whose fingertips have been chopped off because they dared to wear nail polish.
As a child in Kabul, she accompanied her brave mother as she spread the word of RAWA throughout the city. That Zoya should carry on her mother's work is a tribute to her faith in the future of her country. When Zoya was approached by two foreign journalists who encouraged her to share her story in a book, Zoya asked, "What is special about my story?"
Zoya's Story, like Latifa's, is a universal one of human rights violations. The fact that we cannot see the faces of these young writers is a painful reminder of their circumstances and the roles they will play in their country's evolution.
Click here to buy a copy of "Zoya's Story." A portion of the proceeds benefit RAWA.