By Sonali Kolhatkar and James Ingalls* "A wake-up call to everyone who thought the war was a success story." – Eve Ensler Book Description In the years following 9/11, U.S. policy in Afghanistan has received little scrutiny, either from the media or the public. Despite official claims of democracy and women's freedom, Afghanistan has yetRead More…
KPFK's Sonali Kolhatkar and Caltech's Jim Ingalls offer a new way to look at Afghanistan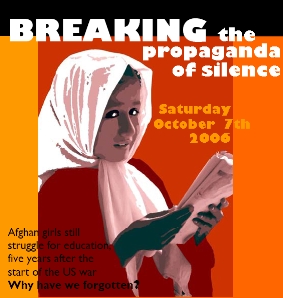 October 7th 2006 marks the 5th anniversary of the start of Operation Enduring Freedom; violence is on the rise and women are still struggling for their rights.
Join us for a benefit for RAWA at Cinespace in Hollywood on Saturday October 7th with special guests Eve Ensler ("Vagina Monologues", V-day), recording artist Michelle Shocked, actor and activist, Mimi Kennedy & Zoya (RAWA). Plus exclusive a sneak film preview of "A View from a Grain of Sand" by Meena Nanji. The event will be hosted by Sonali Kolhatkar (KPFK, AWM).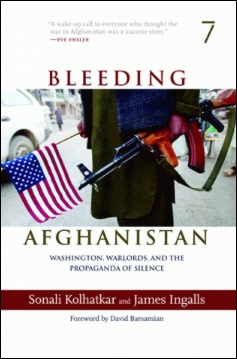 In the years following 9/11, U.S. policy in Afghanistan has received little scrutiny, either from the media or the public. Despite official claims of democracy and women's freedom, Afghanistan has yet to emerge from the ashes of decades-long war. Through in-depth research and detailed historical context, AWM Co-Directors, Sonali Kolhatkar and James Ingalls report on the injustice of U.S. policies in Afghanistan historically and in the post-9/11 era.