By Sonali Kolhatkar and James Ingalls*
"A wake-up call to everyone who thought the war was a success story." – Eve Ensler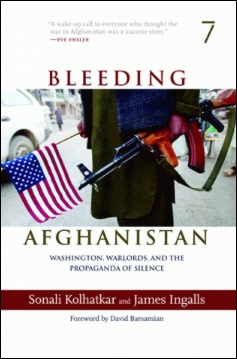 Book Description
In the years following 9/11, U.S. policy in Afghanistan has received little scrutiny, either from the media or the public. Despite official claims of democracy and women's freedom, Afghanistan has yet to emerge from the ashes of decades-long war. Through in-depth research and detailed historical context, Sonali Kolhatkar and James Ingalls report on the injustice of U.S. policies in Afghanistan historically and in the post-9/11 era.
Drawing from declassified government documents and on-the-ground interviews with Afghan activists, journalists, lawyers, refugees, and students, Bleeding Afghanistan examines the connections between the U.S. training and arming of Mujahideen commanders and the subversion of Afghan democracy today. Bleeding Afghanistan boldly critiques the exploitation of Afghan women to justify war by both conservatives and liberals, analyzes uncritical media coverage of U.S. policies, and examines the ways in which the U.S. benefits from being in Afghanistan.
Click here to buy a copy of "Bleeding Afghanistan." All proceeds benefit RAWA.

Reviews:
"Bleeding Afghanistan is without a doubt the most realistic and sincere reflection of the ongoing tragedy in my ill-fated Afghanistan, covering every aspect of life under the US domination and its fundamentalist criminals and warlord hirelings.The book breaks the silence on many hidden agendas of the US administration in Afghanistan." – Malalai Joya, former member of Afghan Parliament
"Sonali Kolhatkar and Jim Ingalls worked with RAWA before it was cool and have continued to do so after Afghanistan has fallen off everyone's radar screen. Their long association with and deep concern for the Afghan people bear fruit in this book, which treats Afghanistan as a country and not as fodder for debating points. It has everything you need to know — the history of foreign intervention, the depredations of the warlords and the Taliban, the U.S. bombing, and the stultifying negligence of the occupation. It clearly gives the lie to the mythology of humanitarian intervention. The authors even have the guts to tackle the most difficult question of all — what should be done now. A remarkable achievement." — Rahul Mahajan
"This is not the Book-Seller of Kabul or the Kite-Runner. It is not for latte-drinking liberals who want to save exotic Afghan women or men. It's about what America is really doing today in Afghanistan after the Taliban was ousted, and what we did before …" — Pratap Chatterjee
"This book provides a perspective you don't often get on CNN or in your daily newspaper…[it] is thoroughly researched (706 endnotes) and provides insight from two writers who have seen the country and worked for the liberation of Afghan women with a great deal more sincerity than Laura Bush." — Michael Stimpson

Click here to buy a copy of "Bleeding Afghanistan." All proceeds benefit RAWA.
* Sonali Kolhatkar and James Ingalls are Co-Directors of the Afghan Women's Mission