"Today Afghanistan is still chained and burning in the fires of both the Taliban and the criminal 'Northern Alliance' fundamentalists and the future of Afghanistan is in serious jeopardy," warned Zoya, a member of RAWA (Revolutionary Association of the Women of Afghanistan) five years after the start of Operation Enduring Freedom.
Zoya is available for interviews during her two week US tour. Call 626-676-7884 to schedule interviews.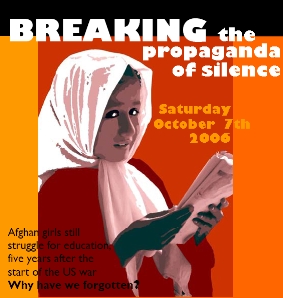 October 7th 2006 marked the 5th anniversary of the start of Operation Enduring Freedom. AWM organized a major benefit event for RAWA at Cinespace in Hollywood on Saturday October 7th with special guests Eve Ensler ("Vagina Monologues", V-day), recording artist Michelle Shocked, actor and activist, Mimi Kennedy & Zoya (RAWA). Plus exclusive a sneak film preview of "A View from a Grain of Sand" by Meena Nanji. The event was hosted by Sonali Kolhatkar (KPFK, AWM).
Transcript of a speech by RAWA member Zoya at a benefit for RAWA (Revolutionary Association of the Women of Afghanistan), called "Breaking the Propaganda of Silence," organized by the Afghan Women's Mission on October 7, 2006.Download an mp3 of the speech: [64 Kbps] [128 Kbps for radio].
October 7th 2001 is a day that many believed to be the beginning of a "new" Afghanistan as the US and its allies started their "War on Terror." Terror was unknown to the US until the 9/11 tragedy, but for RAWA and the vast majority of our people it was the beginning of another tragedy for Afghan people. Looking back to the US involvement in Afghanistan, one could not expect that the US government would think in the interests of our country. The US policy in the Cold War period has sponsored one terrorist regime after another. All kinds of tyrants have been America's friends including the Afghan Mujahiddin.