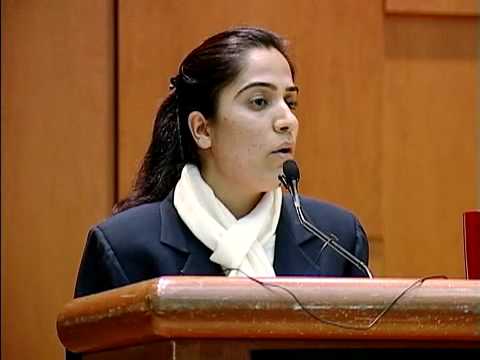 Afghanistan's youngest parliamentarian, Malalai Joya returned to California this April for a very limited number of events. The BBC has called Ms. Joya "the most famous woman in Afghanistan." She has been threatened with death and rape for publicly denouncing Afghanistan warlords and has survived four assassination attempts.
Recently a documentary called Enemies of Happiness profiling Malalai Joya won the World Cinema Jury Prize in Documentaries at the 2007 Sundance Film Festival. (Click here for more information about the film.)
Coverage of Joya's Events (audio/visual/print):
April 10, 2007 – Photos – UCLA Mighty Mic Concert
On Tuesday April 10th, 1500 mostly UCLA students gathered on campus for a human rights concert benefiting Afghan Women's Mission and Doctors Without Borders. Malalai Joya and Eve Ensler spoke alongside a number of well known musicians and poets. See below for photos of the event.
April 11, 2007 – UCLA Daily Bruin – A concerted call to action. By Alexa Vaughn
"The crowd loudly applauded Joya, a current member of Afghan Parliament and survivor of four assassination attempts, as she came on stage to speak of the corruption that she said still exists in Afghanistan's government…" Read More
April 18, 2007 – Sacramento Bee – All is not well, fiery Afghan politician says – By Stephen Magagnini
"The 28-year-old firebrand — 5 feet tall and the youngest member of the Afghan Parliament — earned a standing ovation from about 100 students and drew some tears after she tore into warlords, drug lords and corrupt officials she called a virus killing her country…" Read More
Transcript and audio of Joya's speech – The US has Returned Fundamentalism to Afghanistan"The US government removed the ultra-reactionary and brutal regime of Taliban, but instead of relying on Afghan people, pushed us from the frying pan into the fire and selected its friends from among the most dirty and infamous criminals of the 'Northern Alliance'…" Read the full transcript below.For more information about Malalai Joya, visit www.malalaijoya.com.


---

Photos from April 10th UCLA Mighty Mic Event

| | |
| --- | --- |
| | Malalai Joya addressing the crowd |
| | Playwright Eve Ensler addressing the crowd |
| | About 1500 mostly students gathered in UCLA's Grand Ackerman Ballroom to hear Joya and Ensler |
| | Eve Ensler greets Malalai Joya |
| | Afghan Women's Mission volunteer Heather Schreck staffing a table of RAWA crafts, Afghanistan books and literature |
| | Malalai Joya with the team of volunteers that organized the Mighty Mic Event |
| | Afghan Women's Mission Co-Directors, James Ingalls and Sonali Kolhatkar with Malalai Joya |

---

Transcript of Speech by Malalai Joya

In the name of Democracy and Peace –

Dear friends, while the pro-democracy and anti-fundamentalists groups and individuals of Afghanistan are being marginalized, suppressed and silenced, you give a helping hand to me as a small voice of my suffering people to speak about the crisis in Afghanistan and terrible conditions of its people. You in fact play your role in raising awareness on what is going on in my devastated country.

Respected friends, over five years passed since the US-led attack on Afghanistan. Probably many of you are not well aware of the current conditions of my country and expect me to list the positive outcomes of the past years since the US invasion. But I am sorry to tell you that Afghanistan is still chained in the fetters of the fundamentalist warlords and is like an unconscious body taking its last breath.

The US government removed the ultra-reactionary and brutal regime of Taliban, but instead of relying on Afghan people, pushed us from the frying pan into the fire and selected its friends from among the most dirty and infamous criminals of the "Northern Alliance", which is made up of the sworn enemies of democracy and human rights, and are as dark-minded, evil, and cruel as the Taliban.

The Western media talks about democracy and the liberation of Afghanistan, but the US and its allies are engaged in the warlordization, criminalization and drug-lordization of our wounded land.

Today the Northern alliance leaders are the key power holders and our people are hostage in the hands of these ruthless gangs of killers. Many of them are responsible for butchering tens of thousands of innocent people in the past 2 decades but are in power and hold key positions in the government.

Let me list few of the key power-holders of Afghanistan:

Karim Khalili, the vice-president, is leader of a pro-Iran party called Wahdat, responsible for killing thousands of innocent people, and named by Human Rights Watch as a war criminal.
Ismael Khan, another killer warlord and lackey of the Iranian regime is the minister of water and power.
Izzatullah Wasifi, Afghanistan's anti-corruption chief has been a convicted drug trafficker who has spent around 4 years in a Nevada state prison in the US.
General Mohammed Daoud, Afghanistan's deputy interior minister in charge of the anti-drug effort, is a former warlord and famous drug-trafficker.
Rashid Dostum, the chief of staff of the Afghan army, is a heartless killer and warlord, named by Human Rights Watch as a war criminal.
Qasim Fahim, former defense minister and now a Senator and adviser to Mr. Karzai is the most powerful warlord of the Northern Alliance, and accused of war crimes.
And this list has hundreds of men on it, including Sayyaf, Ulomi, Golabzoi, Rabbani, Qanooni, Mohaqiq, Mullah Rocketi, etc. They should all be removed from power and put on trial for war crimes. In fact all the major institutions in Afghanistan are occupied by warlords and drug-lords. How can we talk about democracy when our legislative, judicial and executive bodies are infected with the viruses of fundamentalism and drug mafia?Many freedom-loving individuals and groups in Afghanistan had long ago warned that bringing the criminal "Northern Alliance" back into power by the US government will pose a danger to Afghanistan. But today, most governments and world institutions accept that Afghanistan is a failed state which is heading toward disaster.Afghans are deeply fed-up with the current situation and every day that passes they turn against the government, the foreign troops and the warlords. And the Taliban make use of it to increase their influence and acts of terror. Countries like Pakistan, Iran, Russia etc. are also meddling in Afghanistan for their own interests.The U.S.-based Center for Strategic and International Studies wrote in a recent report: "…Afghans are frustrated with their economic situation… They suffer from unsteady employment and economic insecurity, and are turning to illicit and illegal activity, such as corruption and opium production…the Taliban has become an alternative source of employment, recruiting the jobless as foot soldiers in the insurgency."In such a situation when a bunch of killers are in power, life cannot be easy for our unfortunate people. I would like to describe the tip of the iceberg on the reality of life in my bleeding Afghanistan:
Seven hundred children and 50-70 women die on a daily basis because of a lack of health services. Infant and maternal mortality rates are still very high – 1,600 to 1,900 women among each 100,000 die during childbirth. Life expectancy is less than 45 years.
The number of suicide cases by Afghan women was never as high as it is today: A month ago eighteen year old Samiya, hung herself by a rope because she was to be sold to a sixty year old man. Another woman called Bibi Gul locked herself up in the animals' stable and burned herself to death. Later her family found nothing except her bones.
The study by the governmental agency Afghanistan Independent Human Rights Commission shows a marked increase in reported cases: Two years ago in Farah province, there were 15 cases of women burning themselves reported, but the number jumped to 36 in the first six months of 2006. Kandahar province had 74 cases two years ago and 77 cases in the first six months of the past year. But the real numbers are much higher.
According to a UNIFEM survey, 65% of the 50,000 widows in Kabul see suicide as the only option to get rid of their misery. UNIFEM estimates that at least one out of three Afghan women has been beaten, forced into sex or otherwise abused.
The gang-rape of young girls and women by warlords belonging to the "Northern Alliance" still continues especially in the northern provinces of Afghanistan. People have staged mass protests a number of times but no one cares about their sorrow and tears. Only a few of the rape cases find their way into the media. One shocking case was that of 11 year old Sanobar, the only daughter of an unfortunate widow who was abducted, raped and then exchanged for a dog by a warlord. In a land where human dignity has no price, the vicious rapist of a poor girl still acts as district chief.
The Taliban continue their fascism in the eastern parts of Afghanistan where the government has no control. They carry out public executions and kidnappings. When some days ago an Italian journalist and his Afghan translator and driver were kidnapped, the Afghan government made a deal with them and released five Taliban leaders from prison so the Italian journalist was freed. But no one cared for the fate of the two innocent Afghans and both of them were beheaded by the Taliban.
A report by Human Rights Watch about war criminals in Afghanistan and the hanging of Saddam Hussein scared many Afghan criminals and now they are trying to block any efforts for their prosecution. Last month the warlord MPs, under the name of "national reconciliation" passed a bill in the parliament based on which no one can file a case or prosecute anyone for committing war crimes in the past 25 years.
I and a few other MPs raised our voices against it but as the fundamentalist warlords hold over 80% of the seats, the bill was easily approved. This bill will now provide amnesty to all criminals.
But Afghan people who have suffered terribly in the past 3 decades consider this bill an abuse against them. According to a survey conducted by the Afghanistan Independent Human Rights Commission over 80% of Afghan people want to prosecute those responsible for past crimes and brutalities and see it as the only way to experience a bright future in Afghanistan.
Even Mr. Karzai signed this disgusting bill which is regarded as a joke and abuse to the millions of Afghans who have suffered and lost their loved ones and were waiting for the day of justice. Meanwhile the killers forgave their own crimes and live without fear. Such bills officially sanction further brutalities and human rights violations against our defenseless people.
The story of Afghanistan's reconstruction is painful: After 5 years you cannot see any serious reconstruction projects. Billions of dollars of aid has been looted by the warlords, corrupt NGOs, the UN and government officials. Afghanistan still stands 175th out of 177 countries in the UN Human Development Index and the rate of unemployment is over 40%.
The so-called "freedom of speech" in Afghanistan is another joke with our people. Let me describe my own recent experience: In early February this year, during the passage of the infamous bill of amnesty for war criminals in the parliament, I had an interview with a local TV channel; they had interviewed some other people including Sayyaf, who is a wanted criminal and member of the parliament.
The TV station broadcast an advertisement for the program a number of times in which they showed some parts of my interview. After this Sayyaf himself called the TV station and threatened them that if Joya's interview was broadcast the consequences would be dangerous for the director. So they resorted to censorship and excluded me from the program. And this is not the first time that I have been censored in the media. Many journalists are too afraid to report my comments.
Last year the UN announced that Afghanistan under US troops could become a narco-state but today no one has any doubt that it has been changed into a mafia-state when Afghanistan produces 92 per cent of the world's supply of opium. High-ranking officials like ministers and deputy ministers etc. have links to the drugs mafia. And all of it happens under the very noses of the thousands of foreign troops.
A mafia system is in place in Afghanistan. The US backed president Karzai and his westernized intellectuals have joined hands with fundamentalists of all brands to impose this mafia system on our people. This is the main reason for today's problems in the deadlocked Afghanistan. Those who speak for justice are threatened with death.
My voice is always being silenced even inside the parliament and once I was physically attacked by pro-warlord and drug-lord MPs in the parliament just for speaking the truth. One of them even shouted "prostitute, take her and rape her!" Despite hating guns, I need to live under the protection of armed bodyguards to survive.
President Hamid Karzai, instead of relying on people to bring the criminal warlords to trial, appoints these criminals to higher posts. Due to his criminal-fostering policies, the people of Afghanistan hate him as someone equally responsible for the current catastrophe. Even the CIA admitted in its report recently that he has lost the people's support and has no control outside of Kabul.
The Afghan government is the most corrupt and unpopular in the world. In a March 2007 survey conducted by Integrity Watch Afghanistan, it was revealed that about 60 percent of Afghans think the current administration is more corrupt than any other in the past two decades.
It is due to this tragic situation that returning to Afghanistan is still an unattractive option for the 4 million Afghan refugees living in Iran and Pakistan and many more still trying to flee the country.
Dear friends, in 2001 the US government announced that it has learned from its past mistakes of supporting the fundamentalists in Afghanistan and will not repeat them. But the agonizing truth is that the US is committing the same mistakes. It is generously supporting the fundamentalists more than ever.
Besides supporting the bands of the Northern Alliance, underground efforts are going on to include some elements of the Taliban and Gulbuddin Hekmatyar in the government. The US included Gulbuddin Hekmatyar on its list of most wanted terrorists, yet his party was allowed to have 34 members in the Afghan parliament, which was elected in an un-democratic and fraudulent election. I have announced a number of times that the US administration has no problem working with pro-American terrorists, but oppose only anti-American terrorists. This is the reason that our people make a mockery of the "war on terror".
I fully agree with Kathy Gannon, an expert in Afghanistan, that "the US is not interested in peace in Afghanistan. The people who killed thousands, who patronized the drug business are in charge of the country."
Dear friends, the US is not concerned with the suffering and disastrous conditions of our people; it is in the US's strategic and economic interests to put our people in danger as long as its own regional interests are met. That is why our people do not consider the US a "liberator" of our country. The US invaded Afghanistan under the name of human rights and democracy but today we are as far from these values as were 5 years ago. However, since 2001 the death toll of innocent civilians as a result of the so-called "war on terror" is five times the number killed in the 9/11 tragedy.
I hope you have realized from the small taste of the problems that I just shared, that my country is still in the chains of bloody and terrorist fundamentalists. The situation in Afghanistan and the conditions of its ill-fated women will never change positively, as long as the warlords are not disarmed and both the pro-US and anti-US terrorists are not removed from the political scene of Afghanistan.
It is a clear and proven fact that no nation can donate liberation to another nation. Liberation is not money to be donated; it should be achieved in a country by the people themselves. The ongoing developments in Afghanistan and Iraq prove this claim. People of other countries only can give us a helping hand and support.
I think that the people of the US can play a great role to put pressure on their policy-makers to stop its wrong policies in Afghanistan and value the wishes of our people. I should say that unlike its government, the people of the US are great, caring and peace-loving, so the democratic-minded elements of Afghanistan can count on your support and solidarity.
The people of the US must help poor Afghan people and its democratic-minded individuals and groups, who are currently defeated and under much pressure. This is the only correct policy that can help Afghan people and guarantee a bright future for us. Unlike the US administration, the true friends of Afghan people must care about the voices of our men and women for justice; they should realize that the existence of fundamentalist groups of any brand as political and military forces, is the main cause of all the problems in Afghanistan. They should know that bringing the Northern Alliance to power was the key to all the disasters that we are experiencing today.
I am well aware of the hardships, challenges, and prospects of death from anti-democratic forces. But I trust my people and enjoy their full support and encouragement. The enemies of my people have weapons, political power and the support of the US government to suppress me. But they can never silence my voice and hide the truth. I am proud to be a beacon of hope for my people and enjoy strong support from them in my mission for democracy and freedom.
Your show of solidarity and support gives me more power and determination to fight the enemies of democracy and humanity in my devastated Afghanistan. You can give me a helping hand by providing moral support and your generous donations so that I can continue and expand my work for the benefit of the desperate and sorrowful women of Afghanistan.
The fundamentalists are counting their days to kill me, but I believe in and follow the noble saying of the freedom-loving Iranian writer Samad Behrangi:
"Death could very easily come now, but I should not be the one to seek it. Of course if I should meet it and that is inevitable, it would not matter. What matters is whether my living or dying has had any effect on the lives of others…"
Thank you.