Sponsored by the Billes Family The Revolutionary Association of the Women of Afghanistan administers Danish School for Girls in the remote Western Afghan province of Farah. "Danish" (pronounced Dah-nish) means "knowledge in the Afghan language of Dari. RAWA broke ground on its construction late 2002 with the aim of providing classrooms and teachers for 150Read More…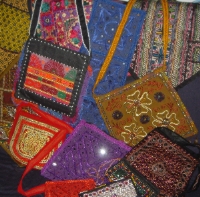 Tired of submerging your conscience every holiday season as you battle the crowds at the mall?
Join us this winter for our 3rd Annual Fair Trade and Conscious Gifts Holiday Bazaar.
WHEN: Saturday December 1st from 11 am – 3 pm
WHERE: Immanuel Presbyterian Church, 3300 Wilshire Blvd, Los Angeles (Geneva Room)
This timely documentary by film maker and photographer Kathleen Foster, dramatizes the tale of a group of remarkable women, how their courage and commitment to change their lives and country has passed from one generation to the next. Their disturbing and amazing stories reflect the recent history of Afghanistan during a quarter-century of cataclysm: fromRead More…