FOR IMMEDIATE RELEASE
CONTACT
Voice: 626-676-7884
E-mail: info_at_afghanwomensmission.org
Los Angeles–President Obama's anticipated deployment of additional troops to Afghanistan is being justified in part by the Taliban threat to Afghan women. To mark the 8th anniversary of the start of Operation Enduring Freedom, a member of a prominent Afghan women's rights group will tour the United States this month, with a different message to Obama and Congress: liberation can only come from within — end the US occupation.
Twenty eight year old Zoya is a member of the intrepid grassroots organization, the Revolutionary Association of the Women of Afghanistan (RAWA), which for more than 30 years has been on the forefront of women's rights and national emancipation in Afghanistan. Zoya will address Americans throughout the month of October 2009, traveling to major events in New York, Iowa, Washington DC, Boston, Los Angeles, and San Francisco.
For most Afghan women like Zoya, the past eight years of US occupation have legitimized criminal warlords and a corrupt government, resulted in thousands of bombing deaths of civilians, and consequently strengthened the Taliban. While women gained some rights on paper in the nation's new constitution, in practice more women are being imprisoned, committing suicide, suffering rapes, and other abuses than ever before. This summer's embarrassingly fraudulent presidential election was seen by a vast majority of Afghans as a debacle of democracy. Education, employment and health indicators all point to a nation whose women are possibly worse off than under Taliban rule.
According to Zoya, "The message of RAWA to freedom-loving people is to support the democratic organizations of Afghanistan. Freedom, democracy and justice cannot be enforced at gunpoint by a foreign country; they are the values that can be achieved only by our people and democracy-loving forces through a hard, decisive and long struggle."
After their founder Meena was assassinated in 1987, RAWA moved their activities underground to carry out their life-risking work of educating, training, and politically organizing Afghan women. Today, they are forced to continue to work underground despite the pronouncements of women's freedom. Members routinely use assumed names, avoid cameras, and change residences. Zoya's events in the US will require a strict, no-cameras policy.
ABOUT ZOYA:
Like many RAWA members, Zoya has witnessed and endured more tragedy and terror than most people do in a lifetime. She grew up during the wars that ravaged Afghanistan and at the age of fourteen, was robbed of her mother and father when they were murdered by fundamentalist warlords. Devastated by so much death and destruction, she fled Kabul with her grandmother and started a new life in exile in Pakistan. After attending a school funded by RAWA, she joined the underground women's organization and continues their work resisting fundamentalism and war today. Zoya has traveled the world over speaking about her experiences and the work of RAWA.
COMMEMORATIVE POSTER: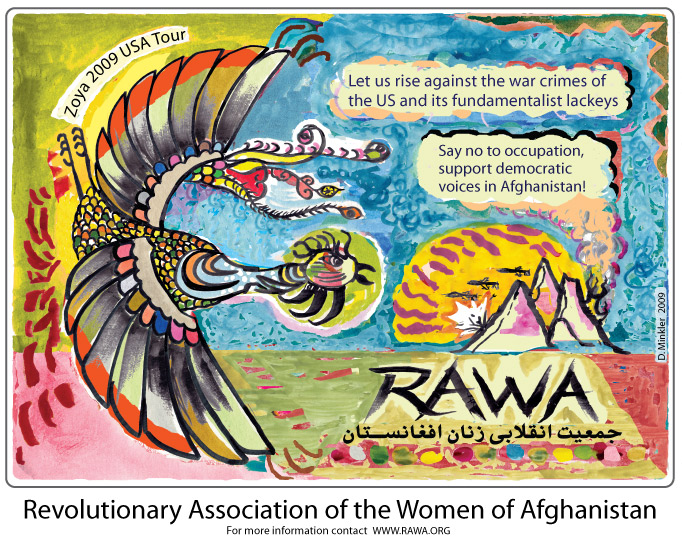 To commemorate Zoya's 2009 national tour, acclaimed Bay area-based artist Doug Minkler, has created a poster that will be available for download and sale. Minkler says, "The invitation to help RAWA publicize Zoya's US tour is a great honor. I am inspired by RAWA's courage, community projects and principled pro-democracy positions and it is my hope that my colorful depiction of the mythical phoenix opposing the gray US death drones and destruction will similarly inspire the viewer to find out more about the work of RAWA. I take great pride in standing with RAWA and hope that if I was in their shoes, I would exhibit the same strength." More information can be found at the artist's website at www.dminkler.com. If you are a member of the media and would like to schedule an interview with Zoya, please call 626-676-7884. Or email info at afghanwomensmission.org. Please note, interviews can only be scheduled after October 3rd when Zoya is in the US.