The Afghan Women's Mission works closely with RAWA, the Revolutionary Association of the Women of Afghanistan to fund education for primarily Afghan children, but also adult women and men. RAWA runs eight schools in the cities and refugee camps of Pakistan, providing education to nearly two thousand girls and boys at primary, secondary and high school levels. RAWA also runs Danish School for girls in Farah Province.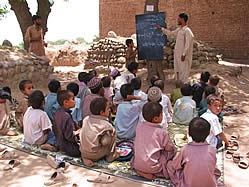 In addition, RAWA runs literacy courses in Afghanistan and Pakistan. At one time RAWA ran nearly a hundred such courses with nearly fifteen hundred students. RAWA also ran eighty six home based (clandestine) schools for girls and boys prior to the collapse of the Taliban regime in 2001 inside Afghanistan. The home based classes have been discontinued as of February 2002 in favor of opening primary schools and literacy courses in order to meet the needs of students. Due to a drop in funding, there are currently only a handful of literacy courses and schools that RAWA is able to run.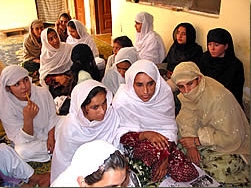 Education is vital as Afghanistan struggles with the legacy of war, and RAWA is has had a great impact on the lives of many children. Some graduates from RAWA schools have gone on without further education to speak before the United Nations, Congressmen and women and Senators of the United States, and to leaders and groups worldwide.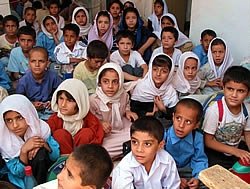 Though the Taliban's authority, with its draconian rules against women's literacy is no longer legal in Afghanistan, many women in Afghanistan still do not have an opportunity to become educated. Additionally local commanders and warlords share the Taliban's desire to refuse education to women and girls. It is estimated that only 4-10% four percent of Afghan women are able to read and write. AWM is funding, with your help, many educational programs in order to help bring those opportunities within reach of all women and children.
>> Read a report about one of RAWA's underground schools.
>> Read a report about RAWA's Danish School for Girls in Farah Province
Your support is needed to keep these children in school!

Your donation earmarked for education will help empower AWM and RAWA to educate women and children and positively influence the future of Afghanistan and the world.

To give a donation to keep the doors of education open to Afghan women and children, click here. Thank You!