As the U.S. and its allies began unleashing their military power upon Afghanistan in 2001/02, millions of Afghans were already living in miserable conditions both inside and outside Afghanistan. These conditions were brought about by decades of war, foreign interference, despotic government rule, drought, famine and a collapse in the economic system. With an impending strike by the U.S. looming after September 11, there were widespread evacuations from major Afghan cities due to people's fears of being bombed.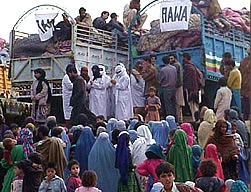 The combination of pre-existing conditions and widespread displacement caused by fear of impending attack by the world's superpower created a situation where millions of Afghans were at extreme risk of starvation.
As winter progressed and the military campaign was stepped up, aid agencies found that there was an increase in instability within the country, and also an increase in looting of their aid supplies, making it that much more difficult to reach the needy population with vital aid. Some agencies were warning that a calamity of "biblical" proportions was imminent unless drastic action was taken to avert it. As if these problems were not enough, deadly earthquakes also struck Afghanistan creating yet more misery.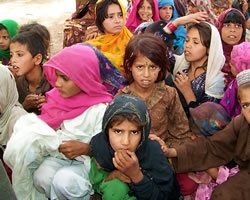 During the winter and spring of 2001-2002, soon after we were founded, AWM provided funds to RAWA who distributed aid to refugees in Quetta, Rawalpindi, Peshawar, Haripur, Tarnawal, and Taal. In addition, emergency aid was given inside Afghanistan in the areas of Kabul, Herat, Mazar-e-Sharif, Jalalabad and Laghman and in the earthquake struck zones of Samangan and Nahrin. About 16,500 families received aid prior to Feb. 22, 2002. An orphanage in Kabul also received aid.
Aid items given out include; blankets, ghee, sugar, flour, rice, toffee, jackets, socks, shoes, and small amounts of cash (USD 2.00 each for 800 families).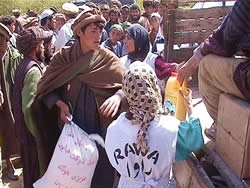 In March 2002, a series of devastating earthquakes struck northern Afghanistan killing many and destroying the homes of thousands of people. Our partners at RAWA made several trips into the devastated areas of Samangan and Nahrin to assess and provide relief in the form of medical care, food and shelter. AWM funded these efforts.
Summer and ongoing drought in Afghanistan have brought with it heat related problems including; leishmaniasis (skin disease of epidemic proportions), heat rash, diseases related to unclean water, famine and others. Warfare and ongoing danger from land mines left over from previous wars continue to create fresh wounded and dead daily.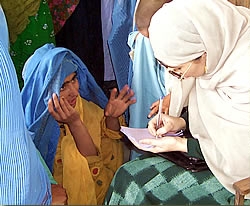 After the 2001 defeat of the Taliban, over 1.5 million refugees returned to Afghanistan, some in hopes of a better life. Many others have returned not so much due to a desire to return, but from persecution from Pakistan to try and get them to leave. This often results in leaving behind a bad situation as a refugee to being in an even worse situation as a homeless person in Kabul.
There are many thousands of people living in Kabul in temporary tents without adequate protection from the winter cold. If the situation does not change for them, they could be forced to once again immigrate to foreign countries or try to survive inside Afghanistan.
Your support is needed to help people facing famine, disease, lack of shelter, and other urgent problems.

Your donation marked "Emergency Relief" will help empower AWM and RAWA to bring relief to suffering people in Afghanistan and in Pakistani refugee camps.

To give a donation to fund on-going emergency relief efforts, click here. Thank You!