Protection of civilians must be at the heart of Afghanistan 'transition' strategy, warn aid agencies.
2010 is already the deadliest year in a decade for civilians, but risks could increase unless NATO takes immediate action
International military forces must take urgent steps to protect civilians caught up in the escalating conflict as they plan for the handover of responsibility for security to the Afghan government, warned leading aid agencies today (Friday 19 November 2010).
Twenty nine international and national aid agencies including Oxfam, Afghanaid and the Afghan Independent Human Rights Commission, have released a new report – Nowhere to Turn – which urges NATO to do more to improve the training and monitoring of Afghan national security forces during the transition period.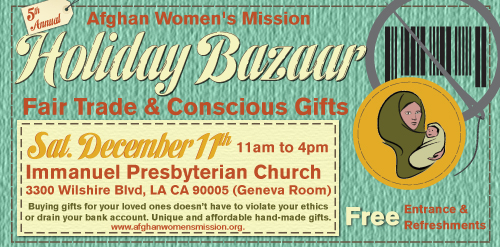 WHEN: Saturday December 11th, from 11 am to 4 pm
WHERE: Immanuel Presbyterian Church, 3300 Wilshire Blvd, LA CA 90005 (Geneva Room – wheelchair accessible)
Buying gifts for your loved ones doesn't have to violate your ethics or drain your bank account!
Browse through a large selection of affordable, sweatshop-free, unique arts and crafts made by artisans internationally and locally, including embroidered pillow-covers, wallets and purses from Afghanistan, fair trade olive oil and spices, vintage posters, locally made foods, jewelry, mirrors, soaps, candles, oils, conscious books, CDs, and much more!
Confirmed vendors include Afghan Women's Mission, KPFK, Ten Thousand Villages, Garment Workers Center, Southern California Library, Zatoun Palestinian Olive Oil, Los Switcheros Del Norte, oceguera, Azadeh, Xothi Designs, Woodhaven, Sunshine, Radka Falk, Skool Boiz, Backyard in a Jar, 9 to 5, and Bus Riders Union.
Download the flyer here.
Entrance is Free. There will be complementary hot coffee and tea donated by Coffee Bean and Tea Leaf, plus delectable cookies and pastries.
This event is sponsored by KPFK Pacifica Radio.
The plight of women in Afghanistan is no excuse for Western "occupation" of the country, a leading Afghan opponent of the war and former MP has declared.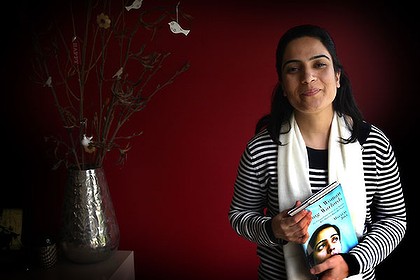 Photo: John Woudstra
After a long-overdue renovation, our website is now ready! We moved to a new server and rebuilt our pages from scratch. Our goal is to make it easier than ever to find out about the work of RAWA and how you can help them. Making a donation online is faster and easier, and has some new options (we now accept PayPal, Discover Card, and electronic check).
We hope you'll find the site easier to navigate. If you have any questions or comments on our new look, please contact us and let us know what you think!
Thank you for your patience as we made the change.

Women wait for child vaccinations in Faizabad, Badakhshan
© Salma Zulfiqar/IRIN
KABUL, 8 November 2010 (IRIN) – Afghanistan has climbed over a dozen places up the annual UN Development Programme's (UNDP) Human Development Index (HDI) – from 181 out of 182 countries in 2009, to 155 out of 169 this year.
However, Afghanistan is still among the world's 23 Least Developed Countries, according to the UNDP report: About 42 percent of Afghans are living in poverty; life expectancy at birth is 44.6; there is one doctor and two hospital beds for every 5,000 Afghans. Under-five mortality is 275 per 1,000 live births, and the maternal mortality rate is 1,400 per 100,000 births. Over half of Afghans do not have access to safe drinking water; 63 percent lack access to improved sanitation.