ACCLAIMED AFGHAN ACTIVIST SHARES HER STORY AND THE REALITY OF THE AFGHANISTAN WAR Malalai Joya, former Afghan parliamentarian and author of A Woman Among Warlords, will be speaking at 4 events in Southern California. Elected to the Afghan parliament in 2006, Joya was the nation's youngest MP, and known for her outspoken views against theRead More…
San Francisco Chronicle
By Bob Egelko, Chronicle Staff Writer
A prominent Afghan feminist and war critic was granted a visa to enter the United States on Thursday – by the same State Department office that turned her down last week – and belatedly started on a speaking tour that is scheduled to wind up in San Francisco. The case of Malalai Joya is the latest of several in which the Obama administration, after at first refusing entry, has allowed a visit by a foreigner who has criticized policies of the United States or its allies.
A U.S. Embassy today granted acclaimed Afghan human rights activist and former MP Malalai Joya, a visa, a little over a week after she was initially turned down. Afghan Women's Mission's Co-Director Sonali Kolhatkar responded to the news saying, "We are ecstatic and gratified that the government finally did the right thing and allowed Malalai Joya into the country so that Americans could hear what she has to say about the reality of the war, and particularly how Afghan women are faring under the occupation." Kolhatkar added, "It is a testament to the nationwide campaign that was launched by our national coalition of organizations and individuals who worked very hard to put the events together and to bring her to the U.S."
By Shirin Sadeghi
New America Media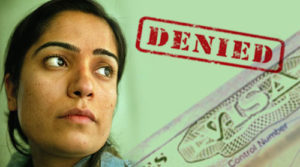 Malalai Joya was 26 when she became the youngest woman ever elected as a member of parliament in Afghanistan. Today, she is the country's most famous woman – a political activist who was just denied a visa for a book tour to the United States because she is "unemployed" and "lives underground," according to what she was told by the U.S. embassy officer who stamped the denial.
Nearly a week after former Afghan Parliamentarian and acclaimed human rights activist Malalai Joya was denied a U.S. visa, a national network of activists is calling on everyone across the country to demand that the State Department let Ms. Joya in.
WHAT YOU CAN DO: On Wednesday March 23, call Secretary of State Hillary Clinton at the State Department at 202-647-5291 between 9 am to 5 pm Eastern Standard Time. Press "1" and leave a comment stating that you are outraged at Malalai Joya's exclusion from the U.S. and that you would like the State Department to immediately grant Ms. Joya an emergency appointment and visa at any U.S. Embassy she has applied.
Here are 4 things YOU can do to try to reverse the U.S. Embassy's decision to deny Afghan women's rights activist and author Malalai Joya a visa to the U.S. for her speaking tour.
The United States has denied a travel visa to Malalai Joya, an acclaimed women's rights activist and former member of Afghanistan's parliament.
Coinciding with the paperback release of her book A Woman Among Warlords, famed Afghan feminist Malalai Joya will travel across the United States this Spring for an extensive speaking tour. Malalai Joya will be available for a limited number of interviews during her stay. Email press@afghanwomensmission.org to schedule an interview.
To watch a 2003 video of Malalai Joya, then in her early 20s, making a speech is to witness phenomenal courage and the power of speaking out. Joya, now 32, was an elected delegate to the Loya Jirga (an assembly to debate the proposed Afghan constitution) when she stood up and publicly criticised the room full of men.
It is no wonder that leading Afghan activist and former Member of Parliament, Malalai Joya, wants the U.S. and NATO out of her country. Having come face-to-face with the brutality of war and the power that U.S.-backed war criminals wield, Joya has been demanding an end to the occupation for years. In her book, A Woman Among Warlords, just out in paperback, Joya explains the situation of ordinary Afghans: "[w]e are caught between two enemies – the Taliban on one side and the U.S./NATO forces and their warlord allies on the other." She goes on to say that "for our people, Obama is a warmonger, like Bush. He follows the same disastrous policies, only with much more determination and force."
next entries »