ACCLAIMED AFGHAN ACTIVIST SHARES HER STORY AND THE REALITY OF THE AFGHANISTAN WAR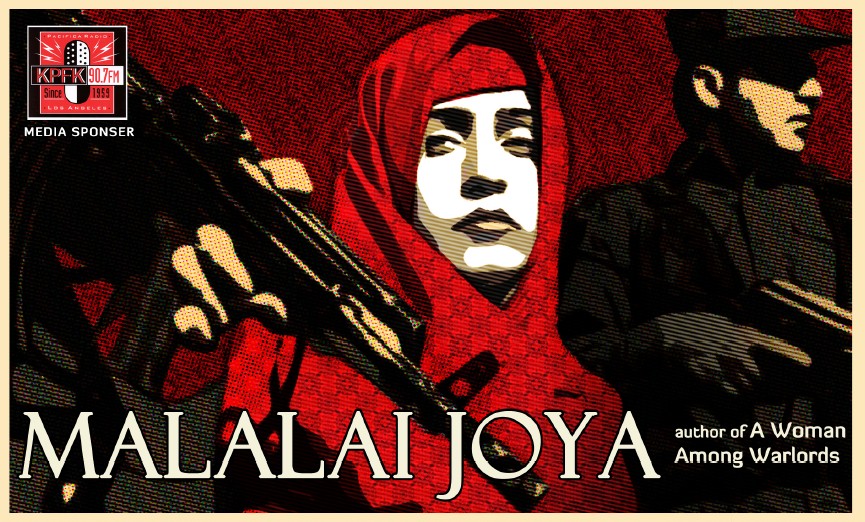 Malalai Joya, former Afghan parliamentarian and author of A Woman Among Warlords, will be speaking at 4 events in Southern California. Elected to the Afghan parliament in 2006, Joya was the nation's youngest MP, and known for her outspoken views against the U.S. backed warlords that dominate the government. She has survived 4 assassination attempts, and in 2007, was kicked out of Parliament by the very men she criticized. Women and men across Afghanistan demonstrated for her reinstatement.
Joya is also a staunch critic of the U.S.-NATO war in Afghanistan. She was initially denied a visa to the U.S. for her Spring 2011 book tour, but after a national campaign to overturn the decision, was finally let into the country to finish her tour.
In 2009 Malalai Joya published her memoir, A Woman Among Warlords (Scribner). Noam Chomsky said of her book, "Malalai Joya leaves us with hope that the tormented people of Afghanistan can take their fate into their own hands if they are released from the grip of foreign powers."
Malalai Joya will make 4 public appearances in Southern California April 7-8 2011. Special thanks to KPFK our media sponsor. Sonali Kolhatkar, Co-director of Afghan Women's Mission, and host of KPFK's Uprising, will introduce Malalai at all the events.
Download a 4×9 postcard of the events. Download an 8.5×11 poster of the event. [WARNING: Files are large].
All events are free and open to the public. Seating is limited so come early! Copies of her book will be available for purchase.
CALIFORNIA STATE UNIVERSITY OF LOS ANGELES
When: Thursday April 7, 1:30 – 3 pm
Where: Cal State Los Angeles campus, University Student Union LA room, 5154 State University Drive, Los Angeles, CA 90032
Co-Sponsor: Students for Social Justice at CSULA, Earth LA
For more info: email info@afghanwomensmission.org, call 626-676-7884.
UNIVERSITY OF SOUTHERN CALIFORNIA
When: Thursday April 7 at 7 pm
Where: University of Southern California Campus, Taper Hall of Humanities (THH) Rm 201, 3501 Trousdale Parkway Los Angeles, CA 90089. Click here for a campus map.
Co-Sponsor: Political Student Assembly at USC
For more info: email info@afghanwomensmission.org, call 626-676-7884.
UNIVERSITY OF CALIFORNIA AT SANTA BARBARA
When: Friday April 8 from 12 noon – 2 pm
Where: University of California Santa Barbara, Multicultural Center Lounge. Click here for a map and directions.
Co-Sponsors: Multicultural Center, Mellichamp Fund – Department of Religious Studies at UCSB
For more info: call 805 893 8411.
GOLDEN WEST UNIVERSITY IN HUNTINGTON BEACH
When: Friday April 8, Doors open 6 pm, event begins 7 pm
Where: Golden West College, Forum I, 15744 Golden West Street, Huntington Beach (Exit at Golden West or Edinger from the 405 Freeway). Click here for a map of the campus. Forum I is in Building 12 in the south end of campus, and the closest parking lot is "D".
Co-Sponsors: Peace Mind, and Body Club at GWC
For more info: email info@afghanwomensmission.org, call 626-676-7884.
Afghan Women's Mission is the lead sponsor of all events. KPFK is the Media Sponsor.
Download a poster of all the events here.