Our event last Friday was a great success! The Skype connection with Afghanistan was impeccable, with excellent sound and video quality. Thanks to our friends at Keycode Media, we were able to stream the event live and capture a full recording, which we now present (after minor edits to clean up dead time and fix some graphics).
For those who missed our live webcast with Reena of RAWA, here it is: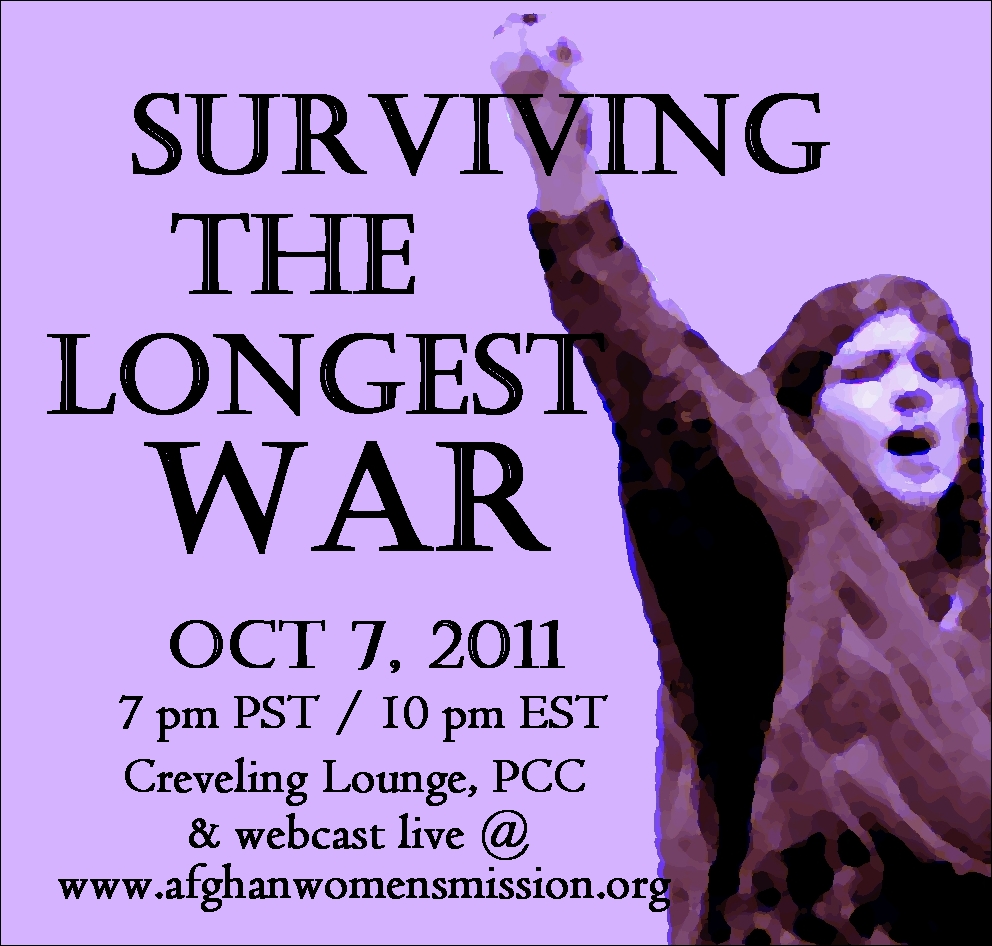 On the 10th Anniversary of the U.S. war, an underground activist tells the real story of the Occupation & Afghan Resistance
Reena, a member of the Revolutionary Association of the women of Afghanistan (RAWA), will address American audiences via live video stream.
RSVP for the event on Facebook.
AWM Co-Director and KPFK's Uprising host Sonali Kolhatkar will lead the conversation with Reena via video streaming in front of a live audience. The event will be webcast live on AWM's website. Questions will be drawn from the in-person audience, and the online audience via Facebook.
WHEN: Friday Oct 7 2011 7pm PST / 10 PM EST
WHERE: Creveling Lounge (CC bld, 2nd floor) PCC campus, Pasadena California or @afghanwomensmission.org.
Open to the public. Entrance is free. There will be books and crafts available for sale.
If you are unable to attend this event, you can watch a live webcast of the entire event on this website! Click here to find out the time of the webcast in your city.
Organized in collaboration with PCC's Students for Social Justice. KPFK is a media sponsor.
Former Afghan MP, Human Rights Activist and Author of "A Woman Among Warlords," Malalai Joya, recorded this message on the Tenth Anniversary of the War and Occupation of Afghanistan:
Transcript of Joya's message:
Hi everyone, I would like to thank all supporters and anti-war movements around the world who are marking the dark day of occupation of U.S. and NATO in Afghanistan.
Respected friends – 10 years ago the U.S. and NATO invaded my country under the fake banners of women's rights, human rights, and democracy. But after a decade, Afghanistan still remains the most uncivil, most corrupt, and most war torn country in the world. The consequences of the so-called war on terror has only been more bloodshed, crimes, barbarism, human rights, and women's rights violations, which has doubled the miseries and sorrows of our people.