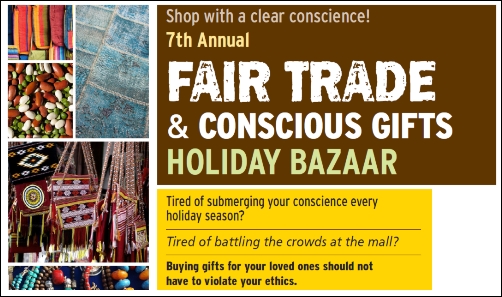 WHEN: Saturday December 1st, from 10 am to 3 pm
WHERE: Immanuel Presbyterian Church, 3300 Wilshire Blvd, LA CA 90005 (Geneva Room – wheelchair accessible)
Browse through a large selection of affordable, sweat-shop free arts and crafts made by artisans internationally and locally, including embroidered pillow-covers, wallets and purses from Afghanistan, locally made jewelry, blankets, scarves and tote-bags, candles, soaps, oils, fair trade coffee & honey, conscious books, CDs, and including the famous soup beans by the Women's Bean Project…plus much more!
Afghan Women's Mission will be a proud vendor at the 7th Annual Holiday Bazaar! We will have purses, jewelry, trinket boxes, and more, handmade from Afghanistan. All sales will benefit AWM's important projects!
Click here to download a flyer for the event.
FREE ENTRANCE & complementary refreshments while you shop
All proceeds will directly benefit the artists and workers who made the items.
More information at www.9to5california.org. This event is organized by 9to5 Los Angeles and co-sponsored by Afghan Women's Mission. KPFK is the media sponsor.