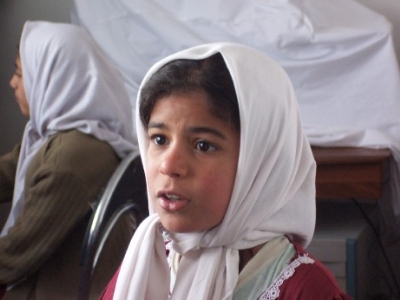 This holiday season, a 19 year old from Arizona, named Aaron Peterson, contacted us saying he wanted to do his part to raise much needed funds for RAWA's work. Afghan Women's Mission is proud to feature Aaron's Indiegogo campaign to raise $25,000 for RAWA by the end of this year.
All donations to this campaign will go directly to AWM in order to fund RAWA's important work to empower women and girls in Afghanistan: prejects like Danish school in Farah Province.
Aaron's message to you is: "I want you to help me change this sense of hopelessness by ensuring women in Afghanistan receive the modern healthcare, education and other resources that they require."
Please click here to visit the online campaign Aaron Peterson has launched and please give what you can this holiday season!
Read More...
Dear friends and supporters,
As may know, in December 2011, IHC, our former fiscal sponsor, lost more than $400,000 worth of donations ear-marked for RAWA's amazing projects (for the full story, click here). Although we have found a new and wonderful fiscal sponsor, SEE, we are still reeling from this devastating blow. We are trying to rebuild, move forward, and continue our support for RAWA's work.
Help us rebuild this Women's History Month!
For every online donation of $100 made in March 2012, we will mail a copy of the remarkable book by Malalai Joya, A Woman Among Warlords, as our "thank you gift" to you.
This book, by one of Afghanistan's most famous women, chronicles the history of Afghanistan, and its current precarious position, through the eyes of one courageous woman. Every $100 donation will be used toward RAWA's life saving projects that benefit Afghan women.
Read More...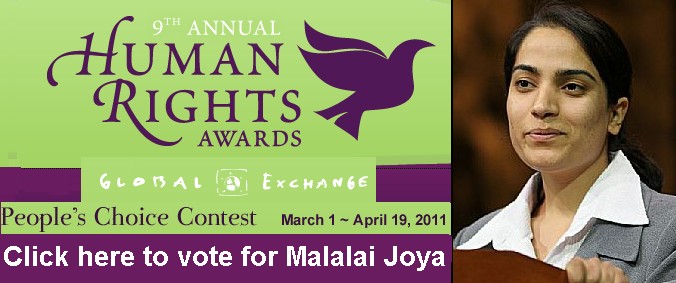 Malalai Joya, former Afghan MP and author of A Woman Among Warlords, has been nominated for the 9th Annual Global Exchange Human Rights Award, as part of the People's Choice Contest.
Read More...
Nearly a week after former Afghan Parliamentarian and acclaimed human rights activist Malalai Joya was denied a U.S. visa, a national network of activists is calling on everyone across the country to demand that the State Department let Ms. Joya in.
WHAT YOU CAN DO: On Wednesday March 23, call Secretary of State Hillary Clinton at the State Department at 202-647-5291 between 9 am to 5 pm Eastern Standard Time. Press "1" and leave a comment stating that you are outraged at Malalai Joya's exclusion from the U.S. and that you would like the State Department to immediately grant Ms. Joya an emergency appointment and visa at any U.S. Embassy she has applied.
Read More...
Here are 4 things YOU can do to try to reverse the U.S. Embassy's decision to deny Afghan women's rights activist and author Malalai Joya a visa to the U.S. for her speaking tour.
Read More...