Dear friends and supporters of Afghan Women's Mission and RAWA,
We are deeply saddened to inform you of a devastating incident that has affected our operations.
We were informed in mid-December 2011 that International Humanities Center (IHC), the non-profit group that we had hired to manage our funds since 2003, has lost all of our donations. All of the nearly 200 organizations that had accounts with IHC are the victims of this theft. Altogether, about $400,000 donated to Afghan Women's Mission to fund RAWA's projects were lost.
Nothing prepared us for this. We were, and still are, in shock.
Read More...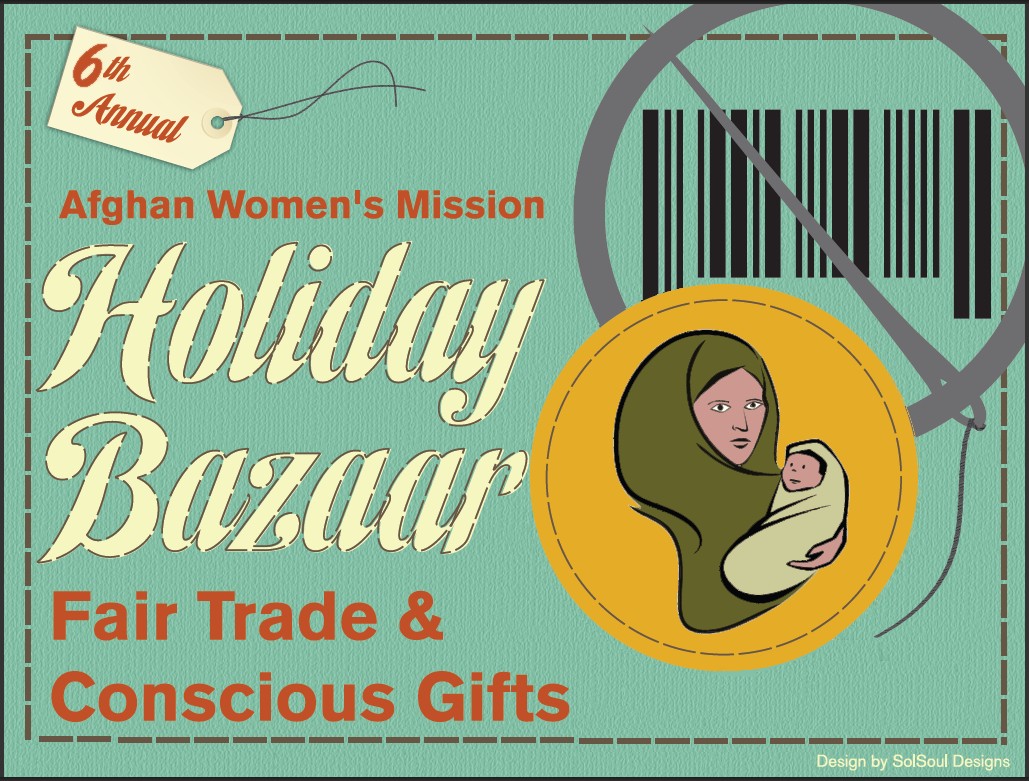 WHEN: Saturday December 10th, from 11 am to 4 pm
WHERE: Immanuel Presbyterian Church, 3300 Wilshire Blvd, LA CA 90005 (Geneva Room – wheelchair accessible)
Don't spend your hard earned dollars at the mall, buying overpriced gifts made in countries with no labor or environmental protections!
Shop with a clear conscience at our 6th Annual Fair Trade and Conscious Gifts Holiday Bazaar.
Browse through a wide selection of hand-made goods made either internationally with fair-trade standards, or locally by LA-based artists.
There will be jewelry, purses, pillow covers, and more from Afghanistan, as well as books, T-shirts, candles, soaps, oils, handicrafts, and much much more!
Click here to view our new inventory of hand-made gifts from Afghanistan, made in RAWA's income generation projects
Download the flyer here.
Entrance is Free. There will be complementary hot coffee and tea plus delectable cookies and pastries!
Read More...
Our event last Friday was a great success! The Skype connection with Afghanistan was impeccable, with excellent sound and video quality. Thanks to our friends at Keycode Media, we were able to stream the event live and capture a full recording, which we now present (after minor edits to clean up dead time and fix some graphics).
For those who missed our live webcast with Reena of RAWA, here it is:
Read More...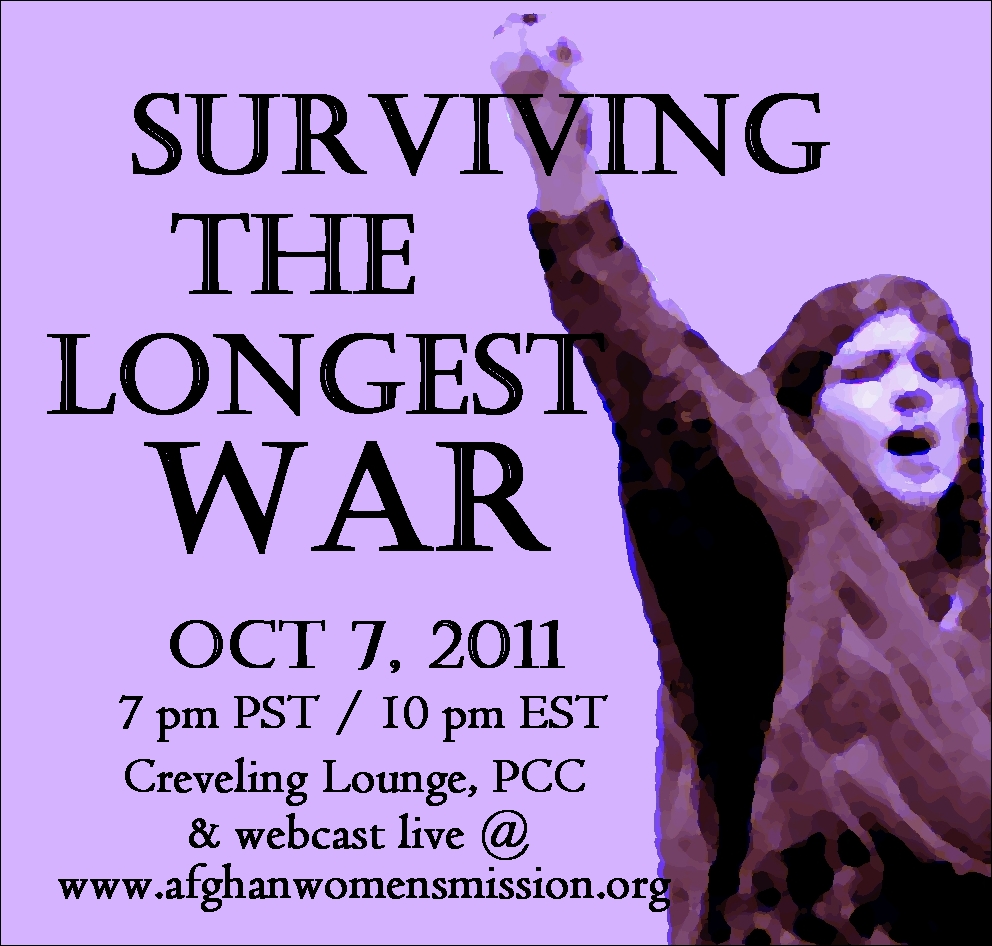 On the 10th Anniversary of the U.S. war, an underground activist tells the real story of the Occupation & Afghan Resistance
Reena, a member of the Revolutionary Association of the women of Afghanistan (RAWA), will address American audiences via live video stream.
RSVP for the event on Facebook.
AWM Co-Director and KPFK's Uprising host Sonali Kolhatkar will lead the conversation with Reena via video streaming in front of a live audience. The event will be webcast live on AWM's website. Questions will be drawn from the in-person audience, and the online audience via Facebook.
WHEN: Friday Oct 7 2011 7pm PST / 10 PM EST
WHERE: Creveling Lounge (CC bld, 2nd floor) PCC campus, Pasadena California or @afghanwomensmission.org.
Open to the public. Entrance is free. There will be books and crafts available for sale.
If you are unable to attend this event, you can watch a live webcast of the entire event on this website! Click here to find out the time of the webcast in your city.
Organized in collaboration with PCC's Students for Social Justice. KPFK is a media sponsor.
Read More...
Former Afghan MP, Human Rights Activist and Author of "A Woman Among Warlords," Malalai Joya, recorded this message on the Tenth Anniversary of the War and Occupation of Afghanistan:
Transcript of Joya's message:
Hi everyone, I would like to thank all supporters and anti-war movements around the world who are marking the dark day of occupation of U.S. and NATO in Afghanistan.
Respected friends – 10 years ago the U.S. and NATO invaded my country under the fake banners of women's rights, human rights, and democracy. But after a decade, Afghanistan still remains the most uncivil, most corrupt, and most war torn country in the world. The consequences of the so-called war on terror has only been more bloodshed, crimes, barbarism, human rights, and women's rights violations, which has doubled the miseries and sorrows of our people.
Read More...
Ten years ago, when the terrorist attacks took place on September 11th, 2001, my colleagues and I in the Afghan Women's Mission watched in shock and horror as thousands of innocent people lost their lives. We knew right away however, that retaliation would be aimed at Afghanistan and that all Afghans, including the women of the underground organization RAWA who we worked in solidarity with, would become targets of American bombs.
Read More...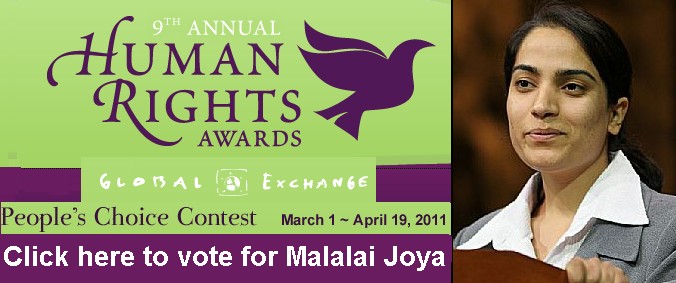 Malalai Joya, former Afghan MP and author of A Woman Among Warlords, has been nominated for the 9th Annual Global Exchange Human Rights Award, as part of the People's Choice Contest.
Read More...
Nearly a week after former Afghan Parliamentarian and acclaimed human rights activist Malalai Joya was denied a U.S. visa, a national network of activists is calling on everyone across the country to demand that the State Department let Ms. Joya in.
WHAT YOU CAN DO: On Wednesday March 23, call Secretary of State Hillary Clinton at the State Department at 202-647-5291 between 9 am to 5 pm Eastern Standard Time. Press "1" and leave a comment stating that you are outraged at Malalai Joya's exclusion from the U.S. and that you would like the State Department to immediately grant Ms. Joya an emergency appointment and visa at any U.S. Embassy she has applied.
Read More...
Here are 4 things YOU can do to try to reverse the U.S. Embassy's decision to deny Afghan women's rights activist and author Malalai Joya a visa to the U.S. for her speaking tour.
Read More...
Malalai Joya, the acclaimed Afghan activist and author of A Woman Among Warlords with Derrick O'Keefe, will tour the United States this Spring to call attention to the on-going Afghan war and prospects for ending it. A Woman Among Warlords has just been published in paperback and will be on sale at all her events. Click here for a preliminary schedule of her events.
Read More...
« previous entries
—
next entries »