Although initially denied a travel visa from the US government, Malalai Joya, with the help of her supporters, successfully petitioned the United States for a visa and wrapped up a successful book tour in the US in early 2011.
Read More...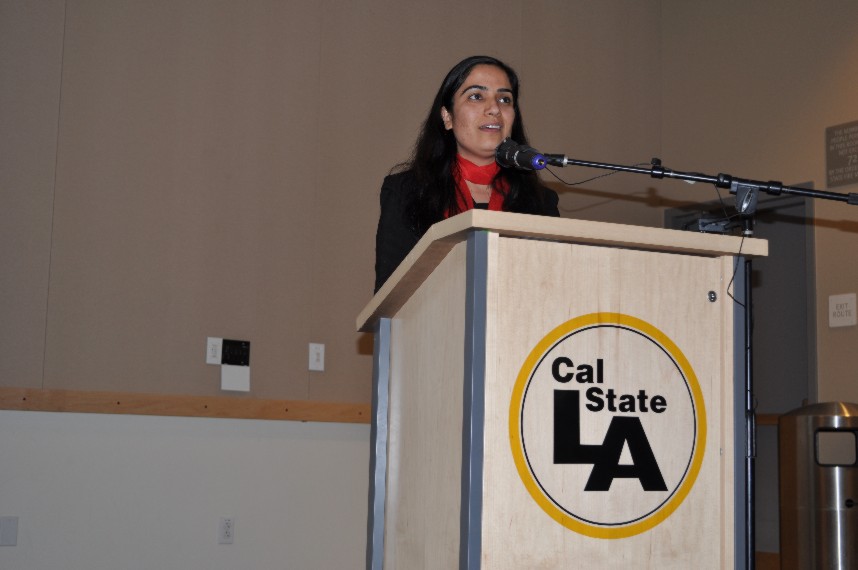 On April 7-8, 2011, Malalai Joya, renowned Afghan activist, returned to Southern California on the occasion of the release of her book, A Woman Among Warlords, in paperback. Part of her national tour (read report here), Joya's time in Southern California, where Afghan Women's Mission is based, was packed with 4 geographically diverse events attended by hundreds of people.
Read More...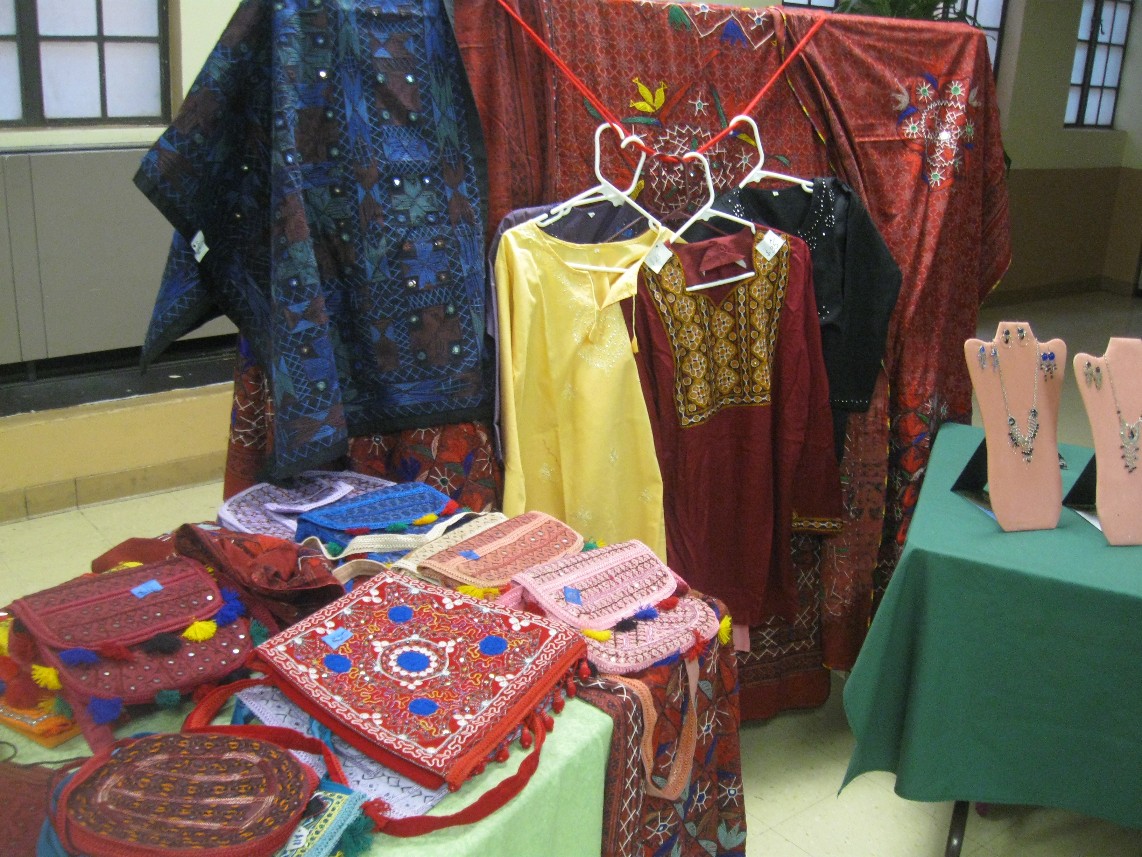 Our 2010 Fair Trade and Conscious Gifts Holiday Bazaar was held on Saturday December 11th at the Immanuel Presbyterian Church in Los Angeles. The yearly event has become a local staple during the holiday season, with devoted supporters of Afghan Women's Mission attending each year to do their holiday shopping. This year we partnered with over a dozen local vendors selling international Fair Trade products or their own locally made goods.
Read More...
Sponsored by the Billes Family The Revolutionary Association of the Women of Afghanistan administers Danish School for Girls in the remote Western Afghan province of Farah. "Danish" (pronounced Dah-nish) means "knowledge in the Afghan language of Dari. RAWA broke ground on its construction late 2002 with the aim of providing classrooms and teachers for 150Read More…
Read More...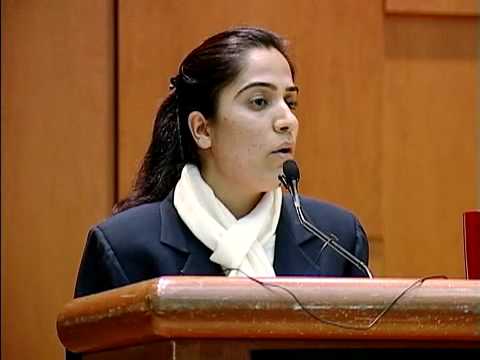 Afghanistan's youngest parliamentarian, Malalai Joya returned to California this April for a very limited number of events. The BBC has called Ms. Joya "the most famous woman in Afghanistan." She has been threatened with death and rape for publicly denouncing Afghanistan warlords and has survived four assassination attempts.
Click here to read the full report of Joya's visit to California.
Read More...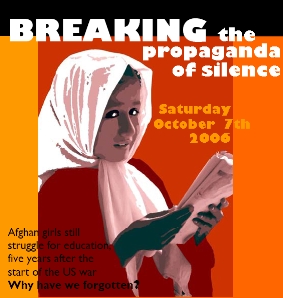 October 7th 2006 marked the 5th anniversary of the start of Operation Enduring Freedom. AWM organized a major benefit event for RAWA at Cinespace in Hollywood on Saturday October 7th with special guests Eve Ensler ("Vagina Monologues", V-day), recording artist Michelle Shocked, actor and activist, Mimi Kennedy & Zoya (RAWA). Plus exclusive a sneak film preview of "A View from a Grain of Sand" by Meena Nanji. The event was hosted by Sonali Kolhatkar (KPFK, AWM).
Read More...
Transcript of a speech by RAWA member Zoya at a benefit for RAWA (Revolutionary Association of the Women of Afghanistan), called "Breaking the Propaganda of Silence," organized by the Afghan Women's Mission on October 7, 2006.Download an mp3 of the speech: [64 Kbps] [128 Kbps for radio].
October 7th 2001 is a day that many believed to be the beginning of a "new" Afghanistan as the US and its allies started their "War on Terror." Terror was unknown to the US until the 9/11 tragedy, but for RAWA and the vast majority of our people it was the beginning of another tragedy for Afghan people. Looking back to the US involvement in Afghanistan, one could not expect that the US government would think in the interests of our country. The US policy in the Cold War period has sponsored one terrorist regime after another. All kinds of tyrants have been America's friends including the Afghan Mujahiddin.
Read More...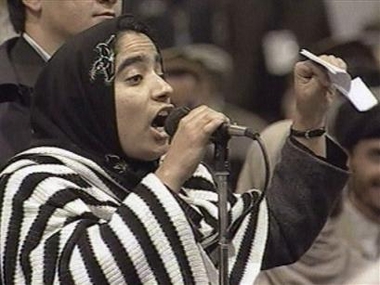 Afghan parliamentarian, Malalai Joya toured the United States in March 2006, addressing thousands of Americans in community forums, panels, college campuses, and local churches.
Click here for news coverage of Joya's tour.
Read More...
In July 2005 RAWA was forced to relocate its flagship health care project, Malalai Hospital, from the Pakistani city of Rawalpindi to Khewa refugee camp. Khewa camp is located about 30 miles from Peshawar.
Read More...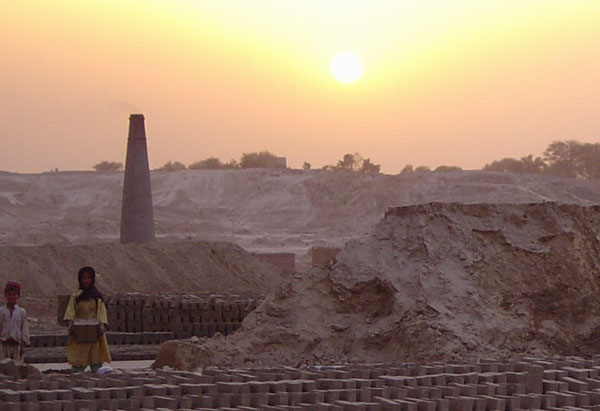 Peshawar, Pakistan: Afghan refugees in Peshawar still live in terrible conditions. Many of them are afraid to go back to their villages inside Afghanistan because of brutal warlords and a ruined economy which has yet to be rebuilt. Jobs are not available and prices of goods are sky high. Thus many choose the hell of life as a refugee in Pakistan rather than the burning hell of Afghanistan.
Read More...
next entries »