Temperatures Soar Over 113 Degrees

Jalozai Refugee Camp, Pakistan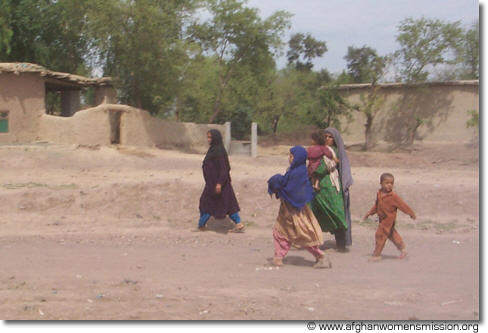 Outside of Jalozai camp homes are made of dried mud.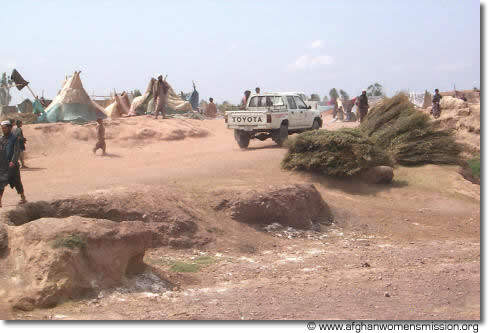 A dry stream bed serves as makeshift latrine. Bundles of brush provide fuel for cooking.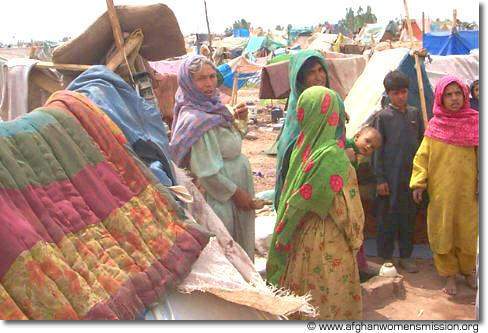 Women share their tales of woe with us.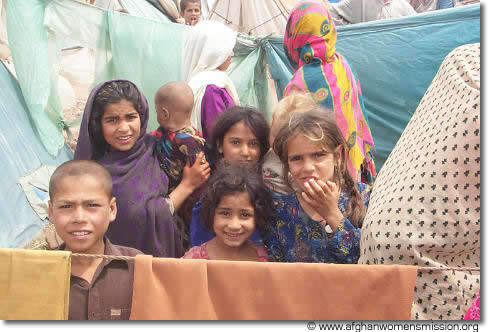 Curious children pose for a picture.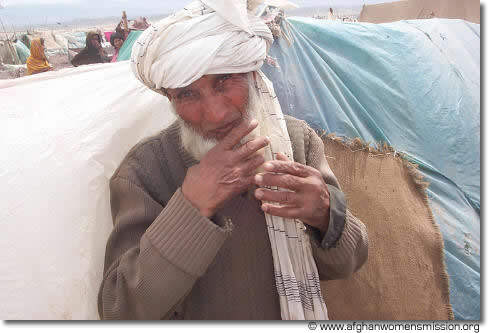 This man's tent had been blown away in a thunderstorm. Wind from storms in late March destroyed many plastic shelters and rain water flooded out thousands more.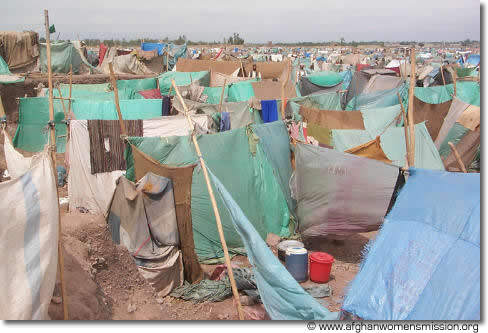 An incline provides a breathtaking panorama of the squalid living conditions of "plastic city."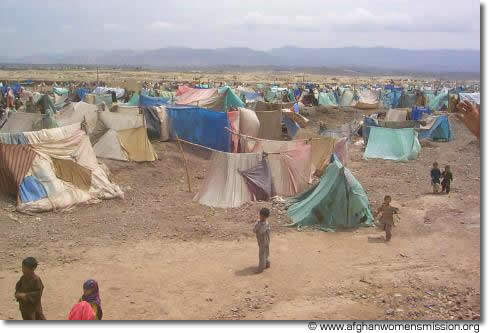 Another view of "plastic city."

Overcrowding, lack of sanitation and privacy are characteristics of this camp.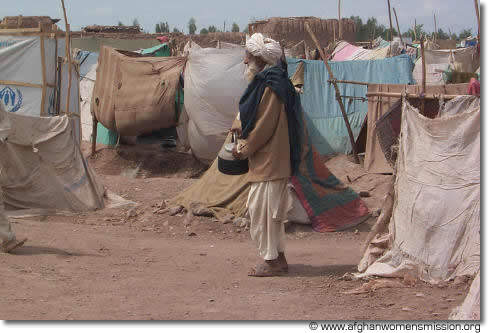 Add lack of food, medicine, water and shelter and you have many reasons why they call it the "living graveyard." "Aid workers say Jalozai is not fit for habitation and neither the shelter nor the sanitation situation can be substantially improved." AFP, May 18, 2001

Women are not easily photographable due to traditions and customs requiring women to be hidden from the sight of strange men.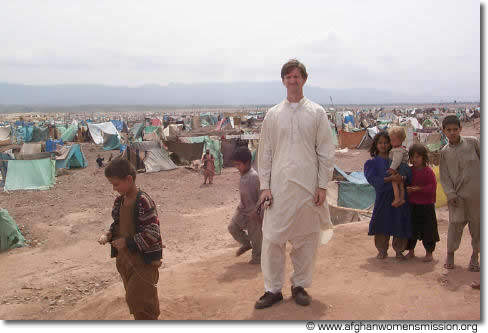 AWM's president investigates Jalozai Camp.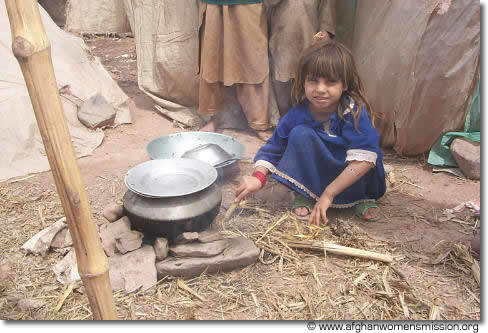 Typical kitchen consists of rocks to form a windbreak and pot support, with dry grasses and brush fed in to produce fire.

Shelter comes in a variety of forms and shapes, from this very simple version…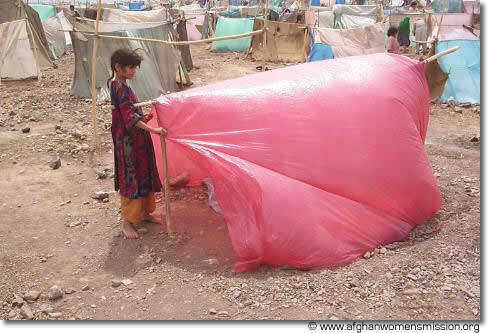 .. and this simple one…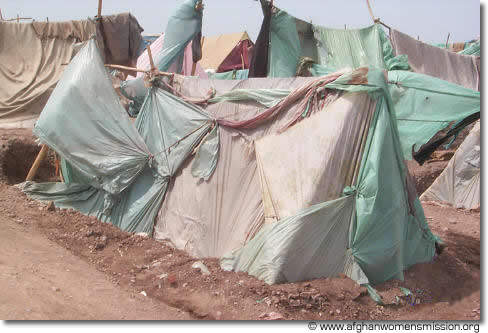 …to this elaborate construction of plastic scraps and sheets…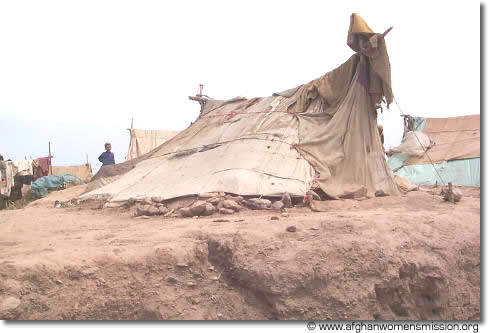 …and even to this rather majestic looking creation on the edge of a dirt bluff. "Because of the serious overcrowding at the site, which is near the Pakistani city of Peshawar, it had become extremely difficult to find space for more latrines, the spokesman said. " AFP, May 18, 2001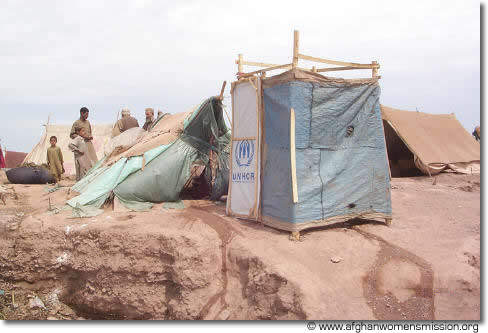 Latrines are found adjacent to living quarters."The combined effects of acute overcrowding, limited sanitation facilities and soaring summer heat are making life unbearable for the people in Jalozai, while at the same time raising fears of epidemics." AFP, May 18, 2001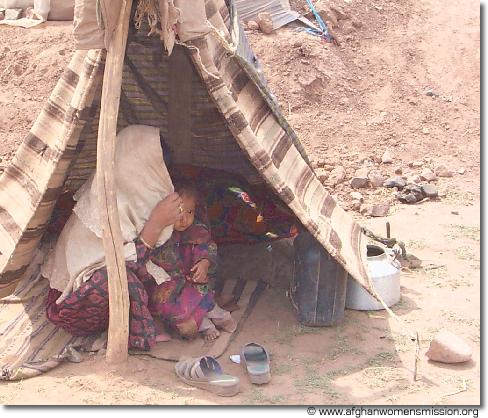 A young mother huddles with child in a shelter that offers no protection from blowing dust or crawling scorpions and snakes. "In the past two weeks, as summer temperatures had soared above 45 degrees Celsius (113 Fahrenheit), more than 25 children have died of heatstroke and dehydration." AFP, May 18, 2001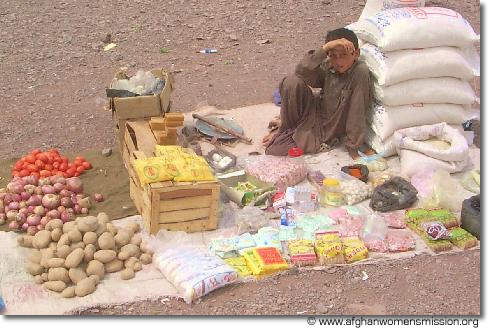 A Jalozai store is open for business but there were no customers. Outside vendors do try to sell inside the camp but complain of lack of sales because no one has money.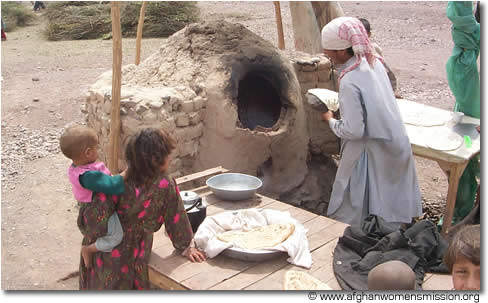 Traditional Afghan bread is baked here. The bread on the table was swarming with flies.

This man greeted us in silence. There was nothing left to say."A senior State Department official said Pakistan was refusing to cooperate with the UNHCR as it sought to find a more adequate location than the overcrowded site. " AFP, May 18, 2001

Your Donation will Help Them Survive the Summer
---
The Afghan Women's Mission will use your donation to provide emergency relief for the refugees in Jalozai, Akora and other camps. Make checks payable to "SEE/Afghan Women's Mission." Be sure to write "Refugee Relief" in the memo section of the check.
Mail checks to:
Afghan Women's Mission
2460 N. Lake Avenue
PMB 207
Altadena, CA 91001
USA.

Your donation can save lives.
Note: Donations are tax deductible to the extent of the law.
THANK YOU!