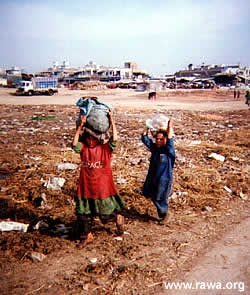 It has been estimated that there are 28,000 children living in the streets of Kabul. This does not include the other cities or villages in Afghanistan or in Pakistan that also have their share of homeless children. It also does not include children who are living with one or both parents, but whose parents are unable to feed or clothe them properly. It also does not represent the numbers of children put to work at a young age in order to help provide for their families and who thereby miss out on education. AWM and RAWA can address this problem through your generous financial support.
The expenses of an orphanage include; food, toiletries, books and stationary, clothes, shoes, bedding, health care, rugs, kitchen items, building rent and utility costs, purchase price of major appliances, salary for administrator, assistant, cook and guards. As an example of the frugality with which RAWA runs their orphanages, consider that the highest salary, that of administrator, is almost $60 per month or about $700 per year.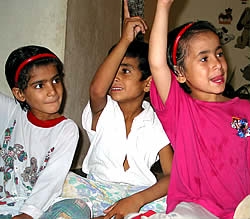 Operating six orphanages in Pakistan with help from the Afghan Women's Mission, RAWA is nurturing and caring for 341 Afghan refugee children. Orphanage staff members try their best to make the orphanage environment like home, even arranging holiday and birthday parties for the children. Girls and boys attend classes from first grade through high school — at either the more expensive Pakistani schools or at RAWA schools in or near the orphanage.
Though there is some hope that the country can change for the better, many Afghans have lived through years of war and need help to rebuild their lives. Only a lack of funds keeps RAWA from accepting more children in their orphanages — there are many thousands of suffering children who need care.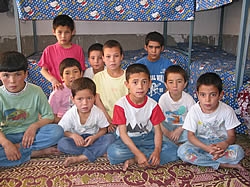 In recent years RAWA also operated orphanages inside Afghanistan, such as Watan orphanage in Farah Province. However, due to a lack of funds, it had to be shut down, and orphans returned to family and friends.
Your support is needed to keep RAWA's existing orphanages alive!

Your donation earmarked for orphanages will help empower AWM and RAWA to provide a loving home for Afghan orphans and positively influence the future of Afghanistan and the world.

To give a donation to keep the doors of RAWA's orphanages open, click here. Thank You!