Dear friends and supporters,
As may know, in December 2011, IHC, our former fiscal sponsor, lost more than $400,000 worth of donations ear-marked for RAWA's amazing projects (for the full story, click here). Although we have found a new and wonderful fiscal sponsor, SEE, we are still reeling from this devastating blow. We are trying to rebuild, move forward, and continue our support for RAWA's work.
Help us rebuild this Women's History Month!
For every online donation of $100 made in March 2012, we will mail a copy of the remarkable book by Malalai Joya, A Woman Among Warlords, as our "thank you gift" to you.
This book, by one of Afghanistan's most famous women, chronicles the history of Afghanistan, and its current precarious position, through the eyes of one courageous woman. Every $100 donation will be used toward RAWA's life saving projects that benefit Afghan women.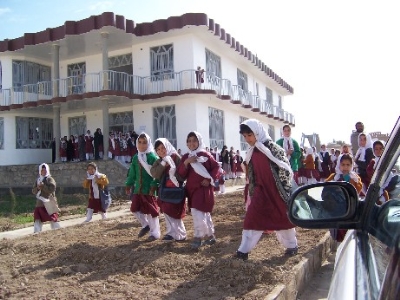 Although RAWA sponsors many projects in diverse realms, from emergency refugee relief to healthcare, one of its most important projects is Danish School for Girls, located in Afghanistan's Farah province. Danish school is a remarkable and safe space for young Afghan girls to learn and grow into brave, educated, and caring young women. Despite threats by the Taliban, families opt to send their daughters to Danish school and are part of Afghanistan's best hope, made possible with the support of donors like you.
Join us this Women's History Month and help us fund RAWA's projects like Danish School. Everyone who makes a donation of $100 donation or more through our website, will receive a copy of Malalai Joya's highly acclaimed book, A Woman Among Warlords.
What people are saying about A Woman Among Warlords by Malalai Joya:
"Joya's life has been singular and heroic." — New York Times
"[A]n explosive book that takes a scalpel to many of the illusions surrounding the US invasion of Afghanistan." — Global Research
"Rest assured, you will be hearing more from Joya. She is a woman determined to have her voice heard at all costs – even her own death." — Globe and Mail
"The courage of Malalai Joya serves not only as a commentary on the current Afghan situation, but is also a reminder that in an atmosphere of deceit, duplicity and relentless violence, there are still some like her who dare to speak the truth and have the courage to face dire consequences." — The Statesman
"If you want to understand Afghanistan, what is being done there in our names, this is a highly readable, accessible way to find out. And if I could see a way forward for Afghanistan, it would have Joya in a prominent position." — BlogCritics.org
"Anyone who wants to better understand Afghanistan and to better explain why the U.S. has no business there should read this indispensable and beautifully written book." — ISR