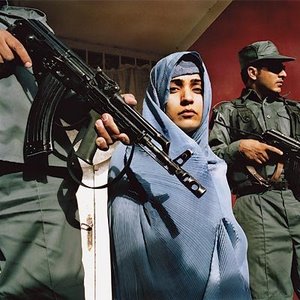 Acclaimed Afghan human rights activist and author, Malalai Joya, returns to the US this fall for a national tour coinciding with the 12th anniversary of the start of the US war in Afghanistan. Joya's tour is sponsored by the United National Antiwar Coalition (UNAC) and Afghan Women's Mission (AWM).
During her tour Joya will address the following questions:
• Why are Afghan women more vulnerable than ever?
• What is the impact of US drones, bombs, and raids?
• What does the end of the US's longest war mean?
• Why is violence increasing after 11 years of war?
Below is a list of cities that Malalai Joya will be speaking at during her Fall 2013 tour:
NEW YORK
Thursday, October 3, 2013, 7 pm
Skylight Room, CUNY Grad Center
365 5th Ave.
New York NY
Speaking alongside Malalai Joya will be Sharmin Hossain from the Ad Hoc Committee Against the Militarization of CUNY who helped organize protests against former general David Petraeus who is teaching at CUNY
Friday, October 4, 2013, 1 pm
Meyer Building at NYU, Room 122
New York University, NY
Friday, October 4, 2013 at 6 pm
Church Center for the United Nations
777 United Nations Plaza,
2nd Fl, East 44th St. & 1st ave.
This event is the ending of a week long program of the People's Global Action on Migration Development & Human Rights. Visit www.pga2013.org for details
Friday, October 4, 2013 at 7 pm
Community Church of New York
40 East 35th St.
Free and open to the public.
Click here for a flyer of the event.
Saturday, October 5, 2013 at 6:30 pm
Deepak Homebase at ABC carpet & home
888 Broadway at e. 19th St.
This will be a conversation on justice with Eve Ensler, V-Day founder and tony-award winning playwright. Entrance: $25 to benefit Malalai Joya's work in Afghanistan. RSVP at www.vday.org/mj
BOSTON, MASSACHUSETTS
Sunday, October 6, 2013, 7 – 9 pm
Malalai Joya and Noam Chomsky
First Parish Unitarian-Universalist Church
1446 Massachusetts Ave, Harvard Sq T
Cambridge MA
Requested Donation: $10. $5 students/low income/unemployed
Reception from 5-6:30 pm with Ms. Joya to raise money for organizations and charities benefiting Afghan women and children.
First Parish U-U Church, 3 Church St., Harvard Sq., Cambridge, MA
So. Asian traditional music and food.
Contribution requested: $20, or $10 for students/low income/unemployed.
Monday, October 7, 2013, 12 noon
Tufts University
Barnum Hall 104
163 Packard Avenue
Medford, MA 02155
Monday, October 7, 2013, 3:30 pm
University of Massachusetts at Boston
Campus Center
Ballroom C, 3rd flr
Boston, MA 02125-3393
Monday, October 7, 2013, 7 pm
Wellesley College
Tishman Commons
Lulu Wang Campus Center
21 College Rd Wellesley, MA 02481
Monday, October 8, 2013, 1 pm
Suffolk University
8 Ashburton Pl
Boston, MA 02108
AMHERST, MASSACHUSETTS
Tuesday October 8, 2013 at 7:30 pm
Food for Thought Books
106 North Pleasant St.
Amherst, Massachusetts
ALBANY, NEW YORK
Wednesday, October 9, 2013 at 1 pm
Bush memorial Auditorium, Russell Sage
College, Congress and first St. Tory, NY
Wednesday, October 9, 2013 at 7 PM
First Unitarian Universalist Society of Albany,
405 Washington Ave., Albany
CHICAGO, ILLINOIS
Thursday October 10, 2013 at 12 noon
Discussion and Q&A with Malalai Joya, part of "Brown Bag" Lunch series
8th Day Center
205 W. Monroe St. Ste 500
Chicago IL 60606
Friday October 11, 2013
TBA
MADISON, WISCONSIN
Sunday, October 13, 2013 at 2pm
Gordon Dining and Event Center
University of Wisconsin, Madison
MINNEAPOLIS, MINNESOTA
Tuesday October 15, 2013 at 7 pm
Foss Center, Augsburg College
625 22nd Ave S
Minneapolis, MN 55454
Wednesday October 16, 2013 from 12:15 to 1:05
University of Minnesota Law School
Rm. 40 Mondale Hall
229 19th Ave S
Minneapolis, MN 55455
Wednesday October 16, 2013 from 4:30-6:00
Macalester College
Room TBA
1600 Grand Ave St Paul, MN 55105
SAN FRANCISCO ,CALIFORNIA
Thursday October 17, 2013, 10 am to 2 pm
University of California at Berkeley
Wheeler Hall, Maude fife room
Thursday October 17, 2013, 7 – 9 pm (doors open at 6:30 pm)
Berkeley City College – Auditorium 21
2050 Center Street between Milvia and Shattuck,
very near the downtown Berkeley BART station.
Friday, October 18, 2013 at 12 noon
Stanford University
(luncheon meeting/location TBA)
Friday, October 18, 2013 7 PM
Friends Service Committee Hall
Palo Alto CA
(Address TBA)
LOS ANGELES, CALIFORNIA
Saturday October 19, 1:30 pm
Harvey Mudd College
301 Platt Blvd Claremont, CA 91711
campus location TBA
Saturday October 19th 7 – 9 pm
All Saints Church, the Forum
132 N Euclid Ave Pasadena, CA 91101
Media sponsor is KPFK
Entrance is free – suggested donation of $10 will include copy of Joya's book A Woman Among Warlords
KPFK host Sonali Kolhatkar will host the event – Book signing to follow talk
Click here for a flyer
NOTE: AWM is collecting used but functioning laptop computers for democracy activists in Afghanistan. You can donate your laptop to AWM at this event ONLY. Please bring all necessary charger cables and accessories. Tax letters will be mailed to donors.
ORANGE COUNTY, CALIFORNIA
Monday October 21st, 10 am – 12 noon
Cal State Fullerton,
Langsdorf Hall (LH) Room 318, Cal State Fullerton (LH is along Nutwood Ave)
Campus Map: http://www.fullerton.edu/campusmap/
Click here for a flyer of the event.
Media sponsor is KPFK
SAN DIEGO, CALIFORNIA
Monday, Oct. 21st, 7 pm
Al Awda Center, 2720 Loker Avenue West Suite J, Carlsbad CA 92010
Co-sponsored by Al-Awda, the Palestine Right to Return Coalition
For more information on this event, or to join the Facebook event page, click here
Tuesday, Oct. 22, 11am
San Diego City College, V101 (16th and C Streets)
1313 Park Blvd
San Diego, CA 92101
Tuesday, Oct. 22, 7 pm
San Diego State University
Nasatir Hall 100
Click here for map
A Feminist Reaseach Colloquium, co-sponsored by the Bread and Roses Center of the Department of Women's Studies, and the Center for Intercultural Relations, SDSU
Wednesday, Oct. 23, 2 pm
UCSD (room tbd)
Wednesday, Oct. 23, 7 pm
Church of the Brethren
3850 Westgate Pl.
San Diego 92105
For more information on this event, or to join the Facebook event page, click here